Eagle Feathers #118 – The Knight

By Bob (Monty) Doherty
Hollywood actor Jack Knight was born and raised in Somerville. To chronicle him, the following words would fit: resourceful, multifaceted, variable, flexible, adaptable, adjustable, or in short, an all-around good guy, a Somerville "knight" in shining armor. He attended her schools, including Somerville High School, the former Southern Junior High, and the Saint Therese Of The Little Flower School in East Somerville. It was here where he immersed himself in acting and basketball.
He continued with these pursuits and a myriad of other school activities including a radio show while at the University of Massachusetts and at the Catholic University of America in Washington D.C. After serving in the Army and juggling half a dozen jobs on and off the stage in New York, he and his young family moved to Los Angeles.
Not long after arriving in California, Hollywood began to notice Jack's many talents in acting, music, humor, speaking and sports. He excelled in them all and won the admiration of the town. Dozens of product advertisers made him a familiar face. One of his ads opened the 1974 Super Bowl. He was master of ceremony at many prominent nightclubs and Hollywood events while honing his acting abilities.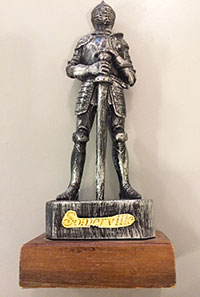 Through the years, this won him parts in scores of notable television shows and films. He was a guest on The Johnny Carson Show twice, and he was regularly seen on Cheers. A sampling of the movies in which he acted includes L.A. Confidential, Moneyball, and Catch Me If You Can. His television appearances include Cold Case, Spin City, NYPD, The Magnificent Seven, and Law & Order.
Jack loved all sports, and in his youth he shined on Somerville High School's basketball team. When he wasn't acting, singing, or entertaining, he played softball with some of the greatest players. He became a championship softball pitcher, and for fifteen years he played with the world-famous, four-man softball team, "The King And His Court."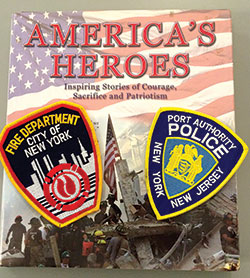 Seventy- five years ago this week, on December 7, 1941, Pearl Harbor was attacked by the Japanese, launching America into World War II. It was declared by President Franklin D. Roosevelt to be "A day which will live in infamy." Fifteen years ago this year on September 11, 2001, The World Trade Center was destroyed. It took the lives of 343 firefighters, 60 police officers, and almost 3,000 civilians and launched America into the Persian Gulf Wars. These two devastating attacks on our soil left all of us with a sense of shock and hopelessness. Like everyone else after 9/11, Jack Knight took the attack personally. Firemen and policemen ran in his family. His remedy was to help in the only way he knew how. He tried to quell the grief of the first responders by joining them and volunteering his support. He produced some inspirational ballads and sang them from Los Angeles to New York. He visited firehouses and police stations throughout the nation. This odyssey covered over 20,000 miles across forty-eight states and Canada. The journey ended at Ground Zero with his singing at a memorial service with over 1,000 firefighters in attendance.
Today, when not acting, he helps lead the charge with an organization called Operation Gratitude founded by Carolyn Blashek after 9/11. This group now sends over 150,000 care packages annually to thank American servicemen and women stationed around the world. Jack is their beloved volunteer "knight."