Eagle Feathers #37– Pie
By Bob (Monty) Doherty
The year 1903 was quite memorable in American history with the Wright brothers making their first powered flight at Kitty Hawk, Henry Ford beginning to roll with his first auto sale, and President Teddy Roosevelt accomplishing his most memorable feat in launching the Panama Canal. It was also the same year in which the underdog Boston Americans, or Pilgrims (five years later to be called the Red Sox), defeated the mighty National League's Pittsburgh Pirates to win the first World Series. On a local note, it was an eventful year when the City of Somerville built the Prospect Hill Monument, which would become an instant attraction, and also purchased the property which would later be called Trum Field.
At that time, a young Framingham couple moved to Magoun Square with their five-year-old son and the new ballpark at Trum Field provided a great escape for the young boy. Little did his father know how much his son would later on affect the Pittsburgh team.  The boy's name was Harold "Pie" Traynor, tagged with the nickname by his friends because of his love of sweets. He would haunt Trum Field for the next 15 years while developing his baseball skills. He was a hustler and would play in every pickup game he could and also played for Somerville High's baseball team.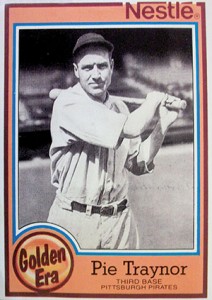 He was scouted by the Boston Braves and, because of a management oversight, was not given a tryout, a big mistake! Pie then played in the Cape Cod League and in Virginia's semi-professional league. At 21 years old, he was discovered by the Pittsburgh Pirates who signed him for $10,000, the highest ever paid for a player in that league.
Pittsburgh never looked back.  Pie went on to play third base for 17 years with the Pirates.  He was considered the best third baseman in all of baseball for ten years straight according to Sport Magazine, and the best third baseman of his era by most writers.  During the centennial of baseball in 1969, he was voted Best Third Baseman on the All Time Team.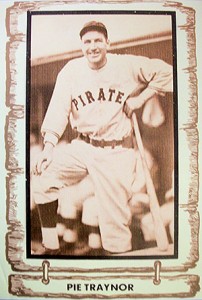 Pie owned third-base. If he couldn't make the catch with his gloved hand, he would bare hand it and still make the play. Opposing players were known to say, "I doubled down the left field line but was still thrown out at first by Traynor."
He played on two pennant-winning teams and one World Series team. He was selected for two All-Star teams. His many individual records, added to his .320 lifetime batting average, solidified his third-baseman crown.  He was team manager of the Pirates for five years and later a scout for the team. After leaving the baseball diamond, he kept in touch with the sport by becoming a radio sportscaster for the next 21 years in Pittsburgh until at 68 years old when he was replaced by Howard Cosell.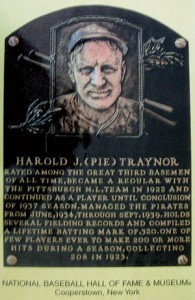 Pie was inducted to the National Baseball Hall of Fame in 1948, and in 2000 the U.S.  Postal Service released a commemorative stamp in his honor. He never had a driver's license, and he loved to walk everywhere. He became a walking, talking goodwill ambassador for Pittsburgh, where almost everyone claimed to have seen him or known him. He was well loved and on his return visits home to Somerville, sports clubs and other organizations would honor him with sold out "Pie Traynor" nights. He passed away in 1972. This past week, the Pittsburgh Pirates lost by one game to the Cincinnati Reds in the National League Championship Series. It was so close, yet so far. It could have been a repeat of the 1903 first World Series, the ghosts of 110 years ago, Red Sox versus Pirates. Harold "Pie" Traynor would have been so proud of them.