Eagle Feathers #12 – A mascot
By Bob (Monty) Doherty
Tufts University was founded in 1852, and its campus bridges the cities of both Medford and Somerville. Almost all of the original professors, as well as the university's largest land donor and namesake, Mr. Charles Tufts, resided in Somerville.
Throughout their campus, you can find memorabilia in honor of the greatest animal attraction in U.S. History.  P.T. Barnum's six and a half ton elephant was so popular that his very name was transformed into an adjective referring to anything thought of as larger than large. You may not realize it, but jumbo eggs, jumbo shrimp, jumbo jets, jumbo mortgage rates etc. are all referred to as such because of the namesake of a tremendously large and extremely loveable elephant.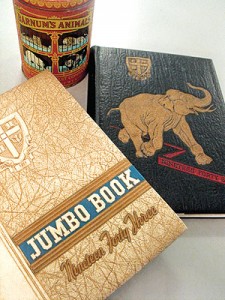 In the French Sudan in the year 1861, the soon-to-be world-renowned Jumbo the elephant came into the world not so larger than life. At one point, the Paris Zoo sold this beautiful African Bush elephant to the London Zoo because he was so small and slow to grow. When the famous circus owner, P.T. Barnum, a Tufts University Trustee, came across him 17 years later after he had grown to full size, he purchased him immediately.
At the time of this exchange, Jumbo had already become beloved by all of England. The acquisition came much to the chagrin of Great Britain, especially the Royal Family, whom had become accustomed to the elephant giving rides to London's children. In fact, Britain's vehement displeasure with Jumbo's departure, mixed with Barnum's marketing ability and willingness to capitalize on England's sour feelings, made Jumbo's American arrival explode with success the size of which was rivaled only by the size of Jumbo himself.
The elephant made Barnum a fortune before meeting an untimely death in a Canadian railroad accident. The remains of the immense animal were saved by a taxidermist and his hide was donated to the Barnum Museum on Tuft's campus, and his skeleton was donated to the American Museum of natural History in New York.
Jumbo left his elephant tracks through Somerville in the way of the Jumbo Restaurant in Ball Square and the former Jumbo Lounge in Teele Square. Angelina's, also in Teele Square, prides itself on offering the three-foot-long Jumbo sub sandwich. Union Square's Target offers Jumbo sales with Jumbo points.
Boston College football has its Eagles, Northeastern has its Huskies, Boston University has its Terriers, but biggest of all, Tufts University has its Jumbos, the biggest mascot in the country. They play their games in Somerville on Ellis Field.
Jumbo may have died long ago, but his memory lives on as a permanent and delightful piece of Tufts' history.