*
Somerville poet Anna M. Warrock writes The Times: "The title of my new book, From the Other Room, comes from a dream. That poem relates only part of the dream. Once I began to follow the characters and give them text and a description, the poem took on its own life. The book won the annual Slate Roof Press Chapbook Award (www.SlateRoofPress.com). This is also a dream poem and the first poem in the book. Dreams are very flexible. For me, tuning in to their suggestive nature is a fruitful stimulus for writing."
Continue reading »

*
Author Mimi Graney, while on her book tour in the region, spoke with host Joe Lynch on Greater Somerville this week. All things Fluff and more.
Arrests:

*
Roderick St. Rose, of 24 Albany St., Cambridge, April 17, 11:56 a.m., arrested at Elm St. on charges of larceny over $250 and conspiracy.
Joao Bairos, of 17 Indiana Ave., April 20, 2:40 p.m., arrested at Broadway on charges of operation of a motor vehicle with a suspended license and operation of a motor vehicle with a revoked registration.
Continue reading »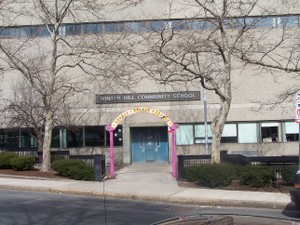 Please join the Mayor's Office of Strategic Planning and Community Development, and Ward 4 Alderman Tony Lafuente, for the fourth in a series of community meetings to discuss upcoming renovations to the Winter Hill School Yard, on Wednesday, April 26, beginning at 6 p.m. The meeting will be held in the Winter Hill Community Innovation School cafeteria, entrance on the Medford St. side. City staff will present the new school yard design and an update on field construction. Information from previous meetings is available at www.somervillema.gov/winterhill.
Continue reading »
In honor of Earth Day 2017, Mayor Joseph A. Curtatone and the City's SustainaVille initiative invite all to the first ever SustainaVille Week celebrating sustainability and the environment. The full seven days of programming ranges from outdoor family fun to informative events. Highlights include the Tiny Great Outdoors Festival, the annual Spring Cleanup and BBQ, environmental story time, a discussion on Somerville's goal to become carbon neutral by 2050 (and how you can help), and an opportunity to experience what it's like to take part in climate talks at the United Nations. Events kicked off on Earth Day, Saturday, April 22, and run through Friday, April 28. See the full schedule below.
Continue reading »

By Lisa Brukilacchio
On Thursday, April 27, The Somerville Community Health Agenda, an innovative partnership between Cambridge Health Alliance, the Somerville Health Department and the community that works collaboratively to improve the health of Somerville, invite residents to an evening focused on the well being of the community at Winter Hill Community Innovation School Cafeteria, 115 Sycamore Street, in Somerville. A light meal will be available starting at 5:45pm. From 6 – 8pm, there will be a brief presentation of data gathered in partnership with the Institute of Community Health. Community members will have opportunities to provide input and insights on issues impacting the health and well being across the life stages and to help prioritize recommendations to improve the health residents in Somerville.
Continue reading »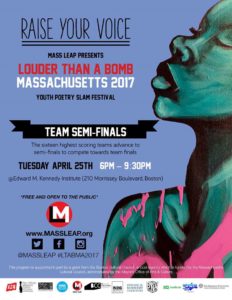 "Louder Than a Bomb Massachusetts" youth poetry slam continues, April 25 – May 6
Teen poets from Somerville's Books of Hope soared to success last weekend, earning a top spot in preliminary rounds of the sixth annual Louder Than A Bomb Massachusetts Youth Poetry Slam Festival (LTAB) on April 8 and 9. This Tuesday, Books of Hope poets will compete in the semifinal rounds where youth poets from the top 16 of the tournament's 40 teams will perform their original poetry for a chance at the flagship finals event on May 6.
Continue reading »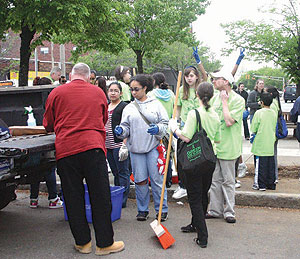 Community BBQ with family friendly activities including a spring egg hunt to be held at Blessing of the Bay Boat House following cleanup at noon with partners Groundwork Somerville & Comcast Cares
Join the City of Somerville, Groundwork Somerville, and Comcast Cares for the annual Spring Cleanup and Community Barbecue on Saturday, April 22, from 10 a.m. to 2 p.m. A rain date has been set for Saturday, April 29. All participants are invited to meet at the Blessing of the Bay Boat House on Shore Drive, at 9 a.m. for breakfast and coffee before setting out to your ward (note that coffee and breakfast will not be served at each ward.)
Continue reading »
Conclusion:  Anticipating the future

By William C. Shelton
(The opinions and views expressed in the commentaries and letters to the Editor of The Somerville Times belong solely to the authors and do not reflect the views or opinions of The Somerville Times, its staff or publishers)
I like to think
(it has to be!)
of a cybernetic ecology
where we are free of our labors
and joined back to nature,
returned to our mammal
brothers and sisters,
and all watched over
by machines of loving grace.
Continue reading »