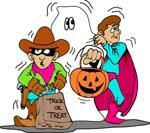 The Somerville Police Department will once again join forces with the Somerville Auxiliary Police and School Crossing Guards on Friday, October 31, Halloween evening, to help make a safe and fun filled evening for Somerville Trick-or-Treaters.
Continue reading »
UPDATE:
A shooting on Otis St. was reported to have taken place at approximately 8:00 p.m. Monday evening.
A 25-year-old man was reportedly shot in the arm and taken by ambulance to Mass General hospital. The wound is said to not be life-threatening.
Witnesses have reported that four or five shots were heard, but it was not known if the victim was the intended target.

Continue reading »
UPDATE:
At 9:10 AM today, Traffic Officer Robert Hickey was involved in a motor vehicle crash while operating a police motorcycle. This crash occurred at the intersection of Medford Street and Pearl Street and involved a 1995 Honda Odyssey operated by a male out of Malden, MA. Officer Hickey, a 20 year department veteran, was transported to Mass General Hospital via Cataldo Ambulance suffering from serious but non-life threatening injuries

Continue reading »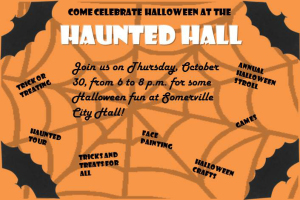 Join the City of Somerville on Thursday, Oct. 30 for the first annual "Haunted Hall" event at City Hall and the City Hall concourse from 6 to 8 p.m. The family-friendly event will feature a costumed Halloween Stroll, safe Trick-or-Treating inside City Hall, games and activities, refreshments, a Haunted Walkway tour, and more. Young attendees are invited to participate in the annual "Halloween Stroll," relocated from the Community Path for this event, stepping off at 6:15 p.m. Costumes are encouraged for all ages, and all "haunted" elements will be appropriate for attendees of all ages. For more information, contact Jackie Rossetti at 617-625-6600 ext 2614, or
JRossetti@somervillema.gov
.
By Gabriela C. Martinez
When you enter Highlander Café at Somerville High School, you will be greeted and led to a table by talented, energetic teenagers dressed in formal waitressing attire. As a starter, you could order a creamy roasted butternut squash infused with ginger or a pear and apple salad. For your entrée dish, you may choose a homemade chicken pot pie topped with a buttery, flaky crust. There are also options for vegetarians. The vegetable lasagna is made with tender eggplant, zucchini, summer squash, and roasted red peppers, all layered in between house made lasagna noodles and a ricotta-mozzarella cheese blend. All of this and more is created and prepared by Somerville High School's culinary arts students at the Highlander Café.

Continue reading »

Life in the Ville by Jimmy Del Ponte
(The opinions and views expressed in the commentaries of The Somerville Times belong solely to the authors of those commentaries and do not reflect the views or opinions of The Somerville Times, its staff or publishers)
The beautification of lower Broadway in East Somerville is … beautiful. I passed by the old Broadway Theater building and started thinking about its history. The following is reprinted from The East Somerville Main Streets webpage. "…it used to be a magnificent theater which at one time was a great attraction for East Somerville. It was built in 1915 as part of an elaborate stock scheme but went bankrupt and was quickly sold to Arthur Viano in 1929. The Viano family ran the theater, which sat 1040 people, for the next fifty years until they closed its doors in 1982."

Continue reading »
By Tom Bannister
It's a sad day in Somerville when The Boston Derby Dames get invited to leave their Somerville home to make way for expansion of the building by its new owners.
That is the current state of affairs as the Bay State's premier WFTDA-sanctioned flat track roller derby league has been informed that it must vacate its current headquarters located in Somerville by January 2015.

Continue reading »
By Jim Clark
While on walking patrol in the Davis Square area last week, a police officer noticed an altercation taking place between a man and two women in Statue Park.
As the officer approached, one of the women was reportedly heard to say, "You don't talk to my wife like that." According to the officer's report, the man responded by making vulgar anti-lesbian statements.

Continue reading »

By William C. Shelton
(The opinions and views expressed in the commentaries of The Somerville Times belong solely to the authors of those commentaries and do not reflect the views or opinions of The Somerville Times, its staff or publishers)
Boynton Yards will eventually produce more jobs and tax revenues than will a fully revitalized Union Square. For short money, the MBTA and the state could hasten that fate and make a critical investment in restoring the neighborhood to its former status as a center of commerce, employment, and connectivity, but without the unpleasant odors.

Continue reading »

Check out the Multi Use Somerville Community Roaming Art Transport vehicle as she hosts Parts and Crafts for a series of kids maker workshops. Learn more about electronics, woodworking and craft projects with Parks and Crafts staff.

Continue reading »