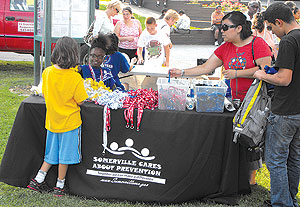 "America's Night Out Against Crime" to feature Fire and Police demonstrations, children's activities and games, and more.
Join the City of Somerville for the 13th annual National Night Out Against Crime and Drugs on Tuesday, August 2, hosted by Somerville Cares About Prevention (SCAP) in partnership with the Somerville Police Department, Mayor Joseph A. Curtatone, and the Somerville Office of Prevention (SOP).

Continue reading »
By Amy Swain
Frozen Hoagies – it's exactly what it sounds like. Is it an ice cream sandwich? Well, owner Mary McPartland says, "A hoagie is more than an ice cream sandwich. It is two scoops of small batch ice cream between two homemade from scratch cookies."

Continue reading »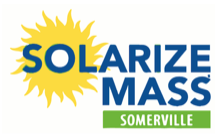 Volunteers & City Launch State-Supported Program to Offer Discounted Solar
As part of the State's Solarize Mass program, local volunteers and the City of Somerville recently launched the Solarize Somerville campaign to make it easier and cheaper for residents and small businesses to install solar panels.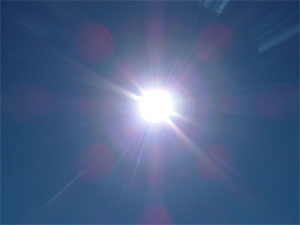 Temperatures are expected to be high through the weekend and we urge all residents to review these hot weather information and safety tips:
Residents are invited to visit the following buildings to stay cool any time this summer:
• Central Branch Library, 79 Highland Ave., 9 a.m. to 9 p.m. Monday through Thursday; 9 a.m. to 6 p.m. Friday; and 9 a.m. to 5 p.m. on Saturday. All library branches are closed on Sundays during the summer.

Continue reading »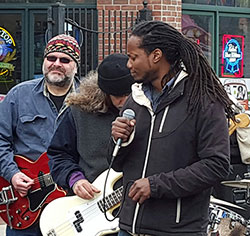 On Sunday, July 24, 1:00 – 4:00 p.m.,Union Sq Plaza, celebrate two cultures in one event, a festival full of song, dance, and art. Haiti and Brazil hit the 'Ville is a celebration of Somerville's diverse population, specifically the Haitian & Brazilian communities. This event is put on in collaboration The City of Somerville's SomerViva program. This year's festival includes: Face painting, hair braiding, and bouncy houses. Featuring many community partners and local organizations. Performances by Bobo's band, Banda Raizes de Forro and Aline Venturin Os Forrozeiros group. Food by Haitian restaurant Pikliz and Brazilian market Mineirão, and much more.
By Jim Clark
Three years ago, writer and performer Greg Josselyn got a job with the City of Boston Elderly Commission as a producer for radio and television programs on aging, where older adults told their stories of re-inventing themselves after the age of sixty.

Continue reading »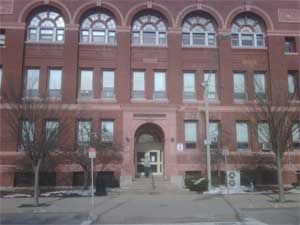 State Treasurer Deborah B. Goldberg, Chair of the Massachusetts School Building Authority ("MSBA"), and MSBA Chief Executive Officer Maureen Valente, announced today that the MSBA Board of Directors voted to move Somerville High School into the Schematic Design phase of the MSBA Capital Pipeline. In the Schematic Design phase, the City and the MSBA will look at options for a potential addition and renovation project at the existing High School. The next step is for the MSBA to work in collaboration with the District to produce detailed designs for a potential project.
Somerville Fire Department took part in the Fill the Boot campaign for the Muscular Dystrophy Association (MDA)  last weekend, inviting donors to help fill their donation boot.
By Jim Clark
Police were called to the Cityline Laundromat on Broadway last week on reports that a man, later identified as Robert Galvin, was stripping off his clothes and attempting to wash them in machines claimed by other patrons.

Continue reading »
In response to recent questions regarding the Black Lives Matter banner at Somerville City Hall, and a letter sent to the Mayor by the President of the Police Employees Association, Somerville Chief of Police David Fallon made himself available this morning at City Hall to answer questions and provide a brief statement.
A statement from the Mayor is below.


Continue reading »