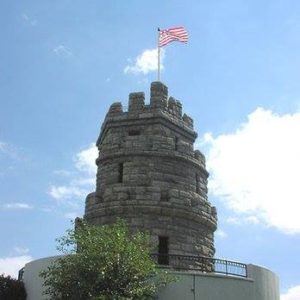 Annual celebration of America's first flag raising to be celebrated by City and State officials, residents, and "George Washington" on horseback.
After having to be cancelled due to extreme cold, Somerville's annual Grand Union Flag Raising is back! The event, rescheduled from January 1 to March 4, 2018, will kick off with a procession form City Hall to Prospect Hill Tower, followed by a reenactment ceremony for the 242nd anniversary of the "Grand Union" flag-raising ceremony at Prospect Hill Park. A processional led by a re-enactor portraying General George Washington on horseback will leave from the City Hall Concourse at 11:30 a.m., followed by a ceremony at Prospect Hill at noon.
Continue reading »
The Somerville Historic Preservation Commission (SHPC) and Historic Somerville are currently seeking volunteers for the City's Docent Program, which offers guided tours and information about Somerville's historic sites. Somerville's Docent Program operates on a scheduled basis from May through October. Public openings are offered at three historic sites, twice a month: the Milk Row Cemetery on Somerville Ave., the Prospect Hill Tower, and the Powder House in Nathan Tufts Park. The Docent Program was started in 2012 and expanded in 2017. Each site opening is for a two hour period.
Continue reading »
By Nathan Lamb
A free training program that provides family caregivers with skills and knowledge about dementia is returning to Somerville-Cambridge Elder Services (SCES) in March.
Registration is now open for the next round of Savvy Caregiver training, which starts March 23. SCES social worker and Savvy Caregiver instructor Nathaniel Meyer said the research-based program is tailored to help family caregivers navigate the many challenges of dementia.
Continue reading »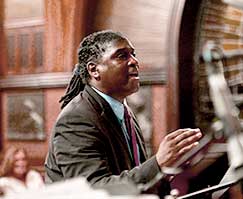 The Tufts University Department of Music presents Family and Children's Concert Series – Tufts Jazz Orchestra, a concert for families and children under the direction of Joel LaRue Smith, in the Distler Performance Hall at the Perry and Marty Granoff Music Center on Saturday, March 10, at 1:00 p.m. The concert includes works by Stevie Wonder, the Beatles, and Leonard Bernstein.
Continue reading »

Somerville Media Center (AKA SCATV, SCAT, whatever your heart desires) is celebrating creativity by throwing a Media Mixer event. SMC kicks off the first event in the free 2018 event series on Sunday, February 25, from 4:00–6:00 p.m. at Aeronaut Brewing Company. Get to know other media makers, filmmakers, editors, actors, aspiring creatives and more at this event. Aeronaut Brewery is a safe space to bring your own snacks and non-alcoholic beverages. There will be two picnic tables off to the left-hand side in the beer garden.
Continue reading »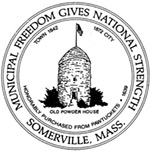 Committee will make recommendations to the Mayor to fill vacant positions on boards and commissions
Applications are now being accepted for positions on Mayor Joseph Curtatone's recently established Appointments Advisory Committee (AAC). The committee will be tasked with reviewing applications and making recommendations for vacant Mayor-appointed posts on boards and commissions with regulatory or decision-making authority.
Continue reading »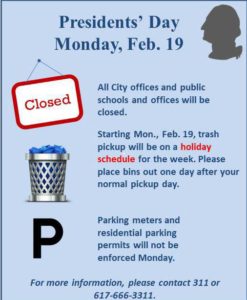 On Monday, February 19, City offices will be closed for Presidents' Day.
Trash and recycling collection will be on a one-day delay all week.
Meters and resident permit parking won't be enforced on Presidents' Day.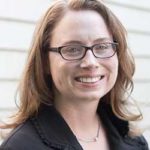 By Rep. Christine Barber
34th Middlesex District
(The opinions and views expressed in the commentaries and letters to the Editor of The Somerville Times belong solely to the authors and do not reflect the views or opinions of The Somerville Times, its staff or publishers)
As we settle into 2018, most of us are looking for a new start and more hopeful news, instead of the challenges and division we faced in 2017. Make no mistake, we have good reason to be angry or fearful at many of the federal policies leveled at us. But despite terrible news, we in Massachusetts have good reason to be optimistic.
Continue reading »
By JT Thompson
Joe, mid 50s, a former lieutenant on the Somerville police force, retired in 2015 after 26 years of service as a cop, and now works with disadvantaged teenagers.
Joe is a big guy, round-shouldered and burly, with friendly, intelligent eyes, a frizzy, grey goatee, a bald head, a dark leather jacket, and slender reading glasses with pink frames. He is deeply comfortable in his own skin and moves easily in his storytelling between sturdy strength and emotional vulnerability.
Continue reading »