By Jim Clark
A police officer assigned to a bicycle patrol and stationed alongside the Charter School on Webster Ave. last week reportedly observed a man on a bicycle run through a red light at the intersection of Washington St. and Webster.

Continue reading »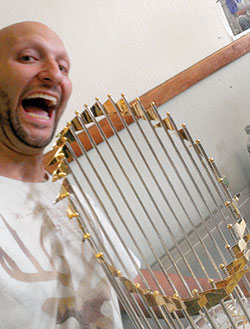 This selfie with the World Series Trophy was taken by Winter Hill resident and great guy Bobby Potaris who just happened to be visiting his cousin's pizza shop in Arlington when the trophy was visiting there as well. Thanks to the security person who handles the trophy, Bobby got the shot. We think the picture is funny and, yes, Bobby is a fun person and a hard worker who owns his own construction company.

There is something that I used to do frequently but now hardly at all, and that is walking through the streets of Boston. I had a dinner I had to go to recently, so I decided to leave early from my home in Somerville, grab the Red Line to Park Street, and got my dogs on the hot pavement. I have been around Boston since 1973, from the time I entered Boston University as a freshman. One of the things I noticed some 40 years later is the change in Boston and the change in me. I am no longer looking at the city as an adventure; I am looking at it nostalgically. While walking down the street in Downtown Crossing I saw the ghost of the Barnes and Noble store that I used to frequent and picked up, by mere chance, "On the Road," simply because the book cover looked cool. That started me on a Kerouac reading binge that had me devouring everything he ever wrote, and made me realize how exciting life and literature can truly be.

Continue reading »

Hopefully by the time you read this poem the crisis at Market Basket will be over. I pulled this up from my archives — thought it would be germane.
Arrests

:


*

Matthew Szklarz, 28, of 59 Munroe St., July 22, 9:08 a.m., arrested at 20 Webster Ave. on charges of bicycle violation and refusal to identify self.

Michelle Harris, 45, of 3 Quincy St., July 22, 9:10 a.m., arrested at 3 Bow St. on warrant charges of larceny from a building, felony nighttime breaking and entering, and trespassing.

Continue reading »
Union Square Neighbors (USN) in collaboration with Union Square Main Streets (USMS) will hold the second of three neighborhood-organized events entitled
The Space in Between: Art, Green Space and the Public Realm,
on Thursday, July 31 at 7:30 p.m. USN and USMS have asked members of the creative community in Somerville and around greater Boston to talk about projects that make public spaces delightful for all. Four speakers will give short 8-minute presentations about built work or work in progress followed by a small group discussion. This week's speakers include:
Continue reading »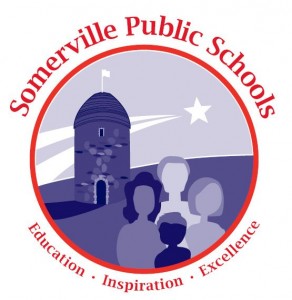 Conference brings together early childhood educators serving students in different settings for joint professional development
More than 50 Somerville educators participated in the first of what is anticipated to become an annual early childhood education conference earlier this month, bringing together educators from across the City for joint professional development as part of a community-wide initiative to align early childhood education services and experiences.  Science in Early Childhood Settings, a two-day conference held at the  Capuano Early Childhood Center on July 11 and 12, offered conference attendees serving pre-kindergarten through first grade students in different settings, the opportunity to learn new skills and best practices related to teaching science in early childhood settings.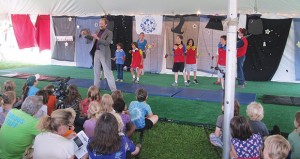 The OPENAIR Circus will be holding its 29th annual performances on August 1 – 3 under the big top at Conway Field.  Watch as students of all ages from 3 to adults and teachers showcase their skills in A Haunted Circus!
Conway Field is at 560 Somerville Ave, Somerville, across from Central St.
Suggested donation is $3.00.

Continue reading »
Monday morning's rain storm made some roads in Somerville impassable.
These photos were taken of Powder House Blvd.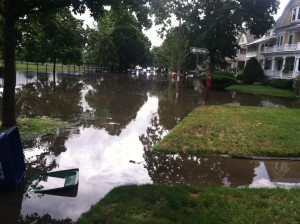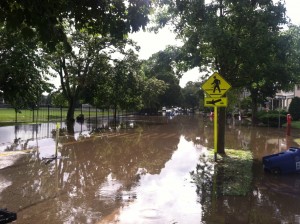 The next installment in the "Muslim Journeys" book series at the Somerville Public Library will take place on Thursday, July 31 with a discussion of Why the West Fears Islam and Acts of Faith at 6:30 p.m.
Jocelyne Cesari, Director of Harvard University's Islam in the West program and lecturer in Islamic Studies at Harvard Divinity School, will lead a talk on these issues as explored in her book, Why the West Fears Islam, and Interfaith Youth Core Founder Ebo Patel's autobiographical work, Acts of Faith: The Story of an American Muslim, in the Struggle for a Soul of a Generation. The discussion is free and open to the public as part of a grant by the National Endowment for the Humanities and the American Library Association.

Continue reading »