By Joseph A. Curtatone
(The opinions and views expressed in the commentaries of The Somerville Times belong solely to the authors of those commentaries and do not reflect the views or opinions of The Somerville Times, its staff or publishers)
This coming weekend we celebrate Labor Day, and many of us will celebrate the holiday with cookouts, backyard gatherings and maybe a last trip to beach before the weather starts to turn cooler. It's easy for us to sometimes forget the reasons for a holiday, focusing instead on having a day off from work, but our holidays are designed to commemorate people and events that have shaped our nation. Labor Day, in particular, is dedicated to American workers, without whom we would not have the thriving economy, reliable services and prosperity that we have today. Here in Somerville, we are working to keep up with a rapidly changing state, national and global economy not only to build a sustainable local economy that keeps our city competitive but that keeps our local workers competitive, too.

Continue reading »
— Photos by Claudia Ferro
*
Somerville's Pop Warner "Villens" participated in the annual Jamboree held at Dilboy Stadium on Sunday, August 24. The scrimmage was a fun day for all families to enjoy and get to meet other families from other Pop Warner organizations. They played mini games that allowed coaches to work with their teams in a real game time situation.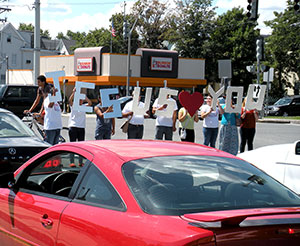 By Donald Norton
A group of about 30 or so members of the Vida Real International church (404 Broadway, Somerville) gathered at McGrath Highway by Foss Park last Sunday, where they stood holding signs and passed out literature. Members of the church stood in front of traffic, spreading their message of "Jesus loves you." Horns from cars acknowledged their efforts. When asked about the demonstration, church member said their mission is to spread the word that God loves us all.
— Photos by Donald Norton
A celebration of Haitian and Brazilian foods, music and art were on display last Sunday at the plaza in Union Square. A crowd of about 150 to 200 took part in the festivities celebrating the two nations' heritage here in Somerville. It was a great time for family and friends to get together and enjoy a fun afternoon here in the city.
By Jeremy F. van der Heiden
This is the third installment of a three-part series of our interview with Massachusetts State Treasurer Steve Grossman, who is currently campaigning in the gubernatorial race.
In the final segment of our interview with Massachusetts Treasurer Steve Grossman, who is running for governor in the forthcoming election, we will discuss his opinions on empowering women entrepreneurs, the role of government and more.

Continue reading »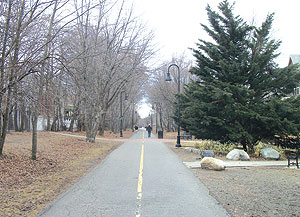 The Community Path is going all the way to Boston and to celebrate, the City of Somerville and the Friends of the Community Path are throwing a zero-waste community party that aims to create little to no trash. Come celebrate the recent Community Path progress on the expansion to Lowell St. as well as the announcements by Governor Deval Patrick, the Massachusetts Department of Transportation (MassDOT), and the MBTA that
the Community Path Extension will be built as part of the Green Line Extension project
.
Continue reading »
It's the end of summer and Labor Day weekend is almost here. No one can honestly say Somerville didn't have things going on every single week, which seemed to make the summer go very fast. It's been nice and cooler in the past few years, but you can't say Somerville is boring. Doors are shutting in N.H., Cape Cod and Western Mass, and everyone is heading back home. The fall season starts and, although only three months away, we thought we would mention that Christmas and New Year's is just around the corner. Aren't you excited?
Continue reading »
By Jeremy F. van der Heiden
This is the second installment of a two-part series following our interview with Lieutenant Governor Candidate Mike Lake.
Lieutenant Governor hopeful Mike Lake recently stopped by The Somerville Times newsroom for an interview to explain his perspectives on the current state of affairs in Massachusetts. Mr. Lake has worn many hats in the past, including that of the Special Assistant for White House Operations during the Clinton Administration and chief executive officer of international organization Leading Cities.

Continue reading »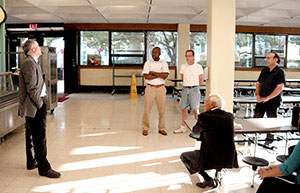 By Donald Norton
A small neighborhood meeting was held last week at the Winter Hill School to talk about a Subway restaurant franchise coming to Winter Hill in the little section of stores on Wheatland and Broadway. Many attendees questioned why someone would buy a Subway franchise and have it in the same neighborhood as Leone's Sub and Mamma Lisa's. They felt that the store would not do well.

Continue reading »
— Photos by Bobbie Toner
The Somerville Boxing Club, the Somerville Recreation Dept., Mayor Curtatone and USA Boxing presented "Somerville Fight Night" last Friday evening at Dilboy Stadium. There was a great turnout and a nice night of entertainment. Former Alderman Bruce Desmond's niece Emily did a great job singing the national anthem. Support the club and the good work they do for local kids.