The Next Wave and Full Circle Alternative schools' 22nd Annual Tree Lot Fundraiser is being held at a new location this year, at the Edgerly Building on the corner of Cross Street and Bonair Street. All proceeds will go to supporting student scholarships, trips and behavioral management programs. The lot is operated entirely by teachers and students, who volunteer their time on evenings and weekends during the busy holiday season. The trees and decorative wreaths are being sold from now to December 18 between 4:00 and 8:00 p.m. during the week and 10:00 a.m. to 8:00 p.m. on the weekends.
Continue reading »

By Dr. Robin Mayfield
physician at CareWell Urgent Care in Somerville
The holiday season is here, but unfortunately so is flu season. The flu virus is unpredictable and this year Massachusetts has already seen widespread flu activity –  just weeks before the holiday season is in full swing. This time of year is one of the busiest for travel as families try to get together for celebrations. If you are traveling by mass transportation like airplanes, you're bound to come in contact with someone who's sick. Here are some quick tips to help you avoid feeling lousy for your celebrations.
Continue reading »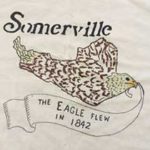 Eagle Feathers #143 – The Argonauts

By Bob (Monty) Doherty
In 1848 Somerville was a young, six-year old town trying to make it on her own. After her separation from Charlestown, her citizens had a long row to hoe to make it succeed through business and hard work. At that time, one town resident, Samuel P. Langmaid, established the new concept of ready-made doors and windows. Up until that time, doors and windows were custom made. Builders and carpenters assembled them on site as defined by the buyer.
Continue reading »


*
Review by Dennis Daly
(correspondent to Off the Shelf and noted critic)
Whether carrying his father and leading his son out of a burning city, navigating his fleet through a tsunami, escaping a Carthaginian seductress, visiting the forbidden realm of Hades, or engaging in mortal combat with a Latin prince, Aeneas, in David Ferry's new and superbly rendered translation of Virgil's Aeneid, conveys the destiny of civilization forward into its ordained future. This epic journey with episodic tragedies, and mythological wonders still captures the imagination of modern readers perplexed by their own earthly impediments and those nasty, ill-deserved thunderbolt strikes from above.
Continue reading »


*
Tara Skurtu is a two-time Fulbright grantee and recipient of two Academy of American Poets prizes and a Robert Pinsky Global Fellowship in Poetry. She holds an MFA in Creative Writing from Boston University and a double degree in English and Spanish from the University of Massachusetts Boston. Tara has taught at Boston University as a lecturer in creative writing, a lecturer in composition at BU's Prison Education Program, and she served on the planning and teaching team for Robert Pinsky's 2014 MOOC, The Art of Poetry. Her poems are published and translated internationally, and her work appears in magazines such as Salmagundi, The Kenyon Review, Plume, and Poetry Review. Tara is the author of the chapbook Skurtu, Romania and the full poetry collection The Amoeba Game (Eyewear, 2017). Tara writes: My two January readings will be at: The Grolier, Tuesday 1/9, 7:00 p.m. and Porter Square Books, Saturday 1/13, 4:00 p.m.
Continue reading »

The Allstate Foundation grant to support nonprofit's work to help end domestic violence and financial abuse
Seven Allstate agency owners from the Greater Somerville area recently came together to secure a $7,000 Allstate Foundation Helping Hands® grant to benefit RESPOND, Inc. in addition to providing the organization with much-needed supplies collected from the multi-agency donation drive. The grant will support the nonprofit organization's mission to help end domestic violence and financial abuse.
Continue reading »
Arrests

:


*

Kevin Banos, of 47 Hanson, December 4, 2:47 p.m., arrested at Walnut St. on a charge of operation of a motor vehicle with a suspended license.

Kevin Banos, of 47 Hanson, December 4, 8:12 p.m., arrested at Washington St. on charges of threat to commit a crime, resisting arrest, and disorderly conduct.

Continue reading »