By Ariana Colozzo
The goal of Community Cooks is to make sure no hungry or vulnerable neighbor goes without food, and to achieve that goal, they work with dozens of partner organizations and hundreds of volunteer cooks. Due to budget cuts that many of their partner agencies face, they are no longer able to provide all necessities, including food.
Continue reading »
Don't forget, tonight popular Ward Two Alderman Maryann Heuston is having a campaign fundraiser. Join in to kick off her campaign to continue serving as your Ward Two Alderman. With special guest, Somerville Mayor Joe Curtatone. The kick-off will be held at the Kirkland Tap and Trotter on Wednesday, April 19, starting at 5:30 p.m. She looks forward to seeing you there. Just in case you didn't know, we'll tell you, Maryann has not missed a hearing or vote on any issue in her ward. That's more than couple of other ward aldermen can say. Maryann is considered a constituent's alderman. always looking to make Ward Two better, just saying!
Continue reading »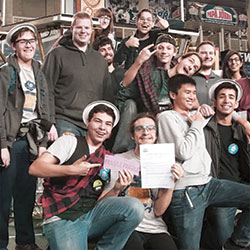 Somerville High School's Robotics Team is headed to the FIRST Robotics World Championships after impressive performances this season including at last weekend's New England District Championship in New Hampshire. The Highlanders are only in their second year competing as a team and have been facing off against much more seasoned competitors throughout the year. Not only has the team been among the top finishers at each of the events in which they've competed, they have also garnered recognition for outstanding sportsmanship and creativity, earning the Creativity Award at the Bridgewater SE event, their first event of the season, and the Gracious Professionalism® Award in Revere.
Continue reading »
By Joe Ruvido
The Somerville Democratic City Committee held a caucus to select representatives to send to the Massachusetts State Democratic convention in June. About 200 Somerville Democrats went to Somerville High School on Thursday, March 30 to select the delegates and establish their positions on the Democratic Party platform. All present were allowed at least a minute to speak before the caucus. Delegates were selected from each of Somerville's seven wards. Delegates at the statewide convention on June 3 will help establish the party platform and strategize on elections, including the 2018 gubernatorial election, where Governor Charlie Baker is expected to run for a second term.
Continue reading »

Eagle Feathers #127 – A Horse With No Name

By Bob (Monty) Doherty
Somerville's Prospect Hill Monument celebrates the raising of America's first flag. It took place on January 1, 1776, and was the 40th birthday of one of General Washington's soldiers. At the time, this new United States trooper had already proven his allegiance to the colonial cause. Eight months before, on the eve of April 19th on a daring midnight ride through Somerville and beyond, he triggered the American Revolution. His name was Paul Revere and the trail he and his horse left across this city that night was far reaching.
Continue reading »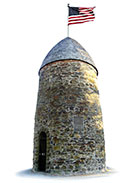 Community volunteerism is an uplifting thing to observe and, especially, to participate in. When the efforts involved result in making the community a bit cleaner and a more comfortable place to live then it is all to the better.
So it is with the annual Somerville Spring Cleanup coming up this Saturday as many residents pitch in, pick up, and sweep out the old, unwanted refuse and generally celebrate our mutual appreciation of the city we live and work in.
Continue reading »
The PUMA Store at Assembly Row welcomed football star and New England favorite Julian Edelman to Somerville on Saturday, April 15. The beloved PUMA ambassador was in-store hosting a fan and consumer meet. During the event, fans got the chance to have their picture taken with Edelman. The line was long getting in to see Edelman, but fans thought it was well worth the wait.


*
Massachusetts Poetry Festival May 5 to May 7, 2017

*
With increments of spring beginning to appear, residents of Massachusetts are looking forward to the potential for activity that good weather brings. As a poet residing in Somerville, a creative, and member of Mass Poetry staff, I am especially looking forward to the start of spring because it signals the oncoming of the Massachusetts Poetry festival.
Continue reading »


*
Margaret Young is the author of Willow from the Willow (Cleveland State University Poetry Center 2002) and Almond Town (Bright Hill Press 2011). Her chapbook Blight Summer is forthcoming from Finishing Line Press, and her translation of Sergio Inestrosa's Espacio Improbable de un Haiku will be out soon from Obsidiana Press. She teaches at Endicott College.
Continue reading »