A Tufts University student reported yesterday that on Saturday, 06/27/15 at approximately 5:30 p.m. she was walking near campus on Teele Ave when an unknown college age male exposed himself to her.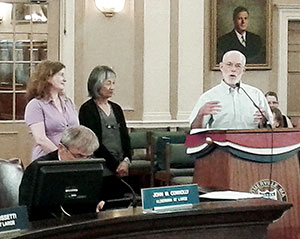 A citation was issued by Ward 5 Alderman Mark Niedergang, Alderman at Large William A. White Jr., Ward 3 Alderman Robert J. McWatters, Alderman at Large Jack Connolly, and the entire Board of Aldermen and the Mayor commending Community Cooks, which is celebrating its 25th year of providing the neediest members of our community with home-cooked meals. The presentation was made at the Board's regular meeting on June 25.
By Oliver Bok
The Board of Aldermen approved the final 2016 budget at their regular meeting on June 25, but not all of the aldermen were pleased.
"Real families, working class families, Somervillians, are getting priced out of this city," Ward 4 Alderman Tony Lafuente said. "And that's just a fact. And we're responsible for that because we keep approving these things."

Continue reading »
By Josie Grove
The old post office building near Union Square hosted a Somerville By Design meeting last Wednesday evening, showing one way old space can have a new use. But the emphasis at that neighborhood planning session was on creating new spaces where old ones no longer work. Over sixty Union Square residents heard presentations from the city and design consultants about the progress of the neighborhood plan.

Continue reading »
The city's Fireworks Celebration set for this Thursday, July 2 at Trum Field. As in the past, along with the mayor and city officials there is a great array of entertainment/music with various food vendors until dusk, then the fireworks begin. What a great job the city does, and it's funded mostly by private businesses.
Continue reading »
By Donald Norton  
This past Monday night, Ward 3 Alderman Bob McWatters packed them in at his campaign kickoff celebration at Sally O'Briens on Somerville Avenue.

Continue reading »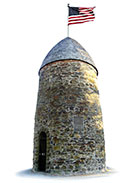 Here we go again. The city needs something done, and the next thing you know privately owned property is suddenly fair game for confiscation under eminent domain law.
One can find an argument in support of either side of the issue, but it's just unfortunate that such measures are deemed necessary in order to ensure the public good. Could there be well-suited alternatives that have not yet been fully examined? One would think so.

Continue reading »

*
With the Fourth of July right around the corner, I thought I would share this recipe for those of you who love a good coleslaw. This is not a traditional coleslaw, but delicious all the same.

Continue reading »
By Jim Clark
Somerville and Tufts police officers responded to report of a burglary at 139 College Ave. in the early morning hours of last Sunday, June 28.

Continue reading »
As I prepare to enter the next chapter in my life starting on July 6, 2015, I do so with gratitude for the opportunity to be part this outstanding community. It has been my immense honor and privilege to serve our City, a city that respects and supports our youth and education like few others, as Superintendent of the Somerville Public Schools for a decade. I am thankful to be finishing a rewarding career in public education in the best urban school district in the Commonwealth.
Continue reading »