By Jim Clark
At the latest regular meeting of the City of Somerville Board of Aldermen, an order was put forward requesting that the City Solicitor advise Ward 6 Alderman Lance Davis on whether the city's noise ordinance can be enforced against waste companies that empty dumpsters overnight and in the early morning.
Continue reading »
By Hannes Remmert
On Saturday, March 18, Groundwork Somerville, a local nonprofit, hosted the annual Maple Syrup Boil Down Festival. This festival serves every year as the main event of Groundwork's Maple Syrup Project, an educational program covering Somerville's urban maple syrup production.
Continue reading »
Coming up on Monday, March 27, 5:30 to 7:30 p.m., a fundraiser for Ward 7 Alderman Katjana Ballantyne will be held at Sabur Restaurant, 212 Holland Street in Teele Square. Katjana has been a good alderman representing the residents of Ward 7 and the city. She is also very concerned and dedicated.
Continue reading »
By Joe Ruvido
More than 1800 runners took part in Sunday's Ras Na hEireann 5k in Davis Square. For some, including race winners Kevin Greene and Holly Rees, the run was another competitive event on the spring racing calendar. For others it served as a healthy, athletic end to a festive St Patrick's Day weekend.
Continue reading »

Eagle Feathers #125 – The Beautiful Beast

By Bob (Monty) Doherty
Benjamin Franklin Butler was born in Deerfield, New Hampshire in 1818. He was raised in Lowell, Massachusetts and left a love-hate impression in Massachusetts and American history that carries on today. He was a brilliant lawyer, a controversial Civil War general, a popular politician, and a successful businessman.
Continue reading »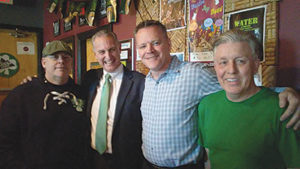 This past Friday afternoon and into the evening a lot of city officials dropped in to have a pint of Guinness and to celebrate St. Patrick's Day at Sally O'Brien's in Union Square, a great pub where a lot of locals and many newcomers to the city are flocking to. The friendliest of pub owners, Liam, and his crew behind the bar are legendary as the nicest in the city. Everyone who showed up had a good time. Later in the evening a bagpiper was even present. There was lots of fun and entertainment for celebrating the holiday.
Continue reading »