By JT Thompson
Wilson: Kenyan, mid 50s, transplanted to New York City in 1978, in 9th grade, when his father was posted to the Kenyan mission at the UN. Wilson now works as a server on the banquet staff at the Charles Hotel in Cambridge; he bought a condo in Union Square in 2004, and became a US citizen in 2008.
Continue reading »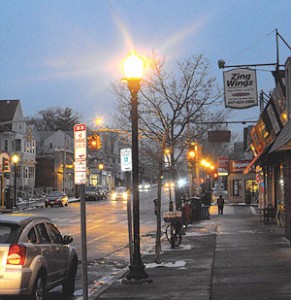 Program aims to reduce electricity costs while introducing renewable energy sources
The City of Somerville will start a new electricity bulk buying program for households and businesses citywide this July. Called Somerville Community Choice Electricity (Somerville CCE), the goal of the program is to reduce and stabilize the cost of electricity for residents and businesses in Somerville, as well as increase the share of renewable "green" energy in Somerville's electricity supply. Somerville will be joining more than 60 Massachusetts cities and towns that take advantage of state law that allows them offer this type of "municipal aggregation" program.
Continue reading »
By Jim Clark
A police officer was dispatched to the Dunkin' Donuts on Somerville Ave. last week on reports of an unwanted person.
Upon arrival, the officer was met by the day manager of the store, who reportedly said that a man, later identified as Chikh Toure, refused to leave the premises after being asked to do so numerous times.
Continue reading »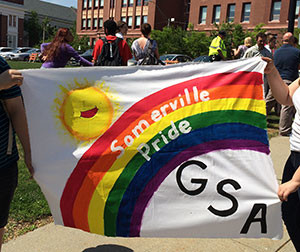 LGBTQ Flag Raising Initially Scheduled for Thursday, May 25, Moved to Thursday, June 1, due to Inclement Weather Forecast
Had previously been scheduled for Thursday, May 25.
Please join Mayor Joseph A. Curtatone and the Somerville High School Gay-Straight Alliance (GSA) on Thursday, June 1, at 2:45 p.m., to raise the Pride flag in honor of LGBTQ Pride Month and LGBTQ Youth Pride. The ceremony will take place on the City Hall concourse, 93 Highland Ave. Mayor Curtatone, Somerville Director of Human Services Nancy Bacci, Somerville High School teacher and Gay/Straight Alliance Advisor Julia Post, and Liam Keefe, student representative from GSA will speak at the event. The event is open to the public, and we invite community members to join us in celebrating LGBTQ youth and the diversity that makes Somerville great. For more information about the GSA and other LGBT programming, events and information, please contact nbacci@somervillema.gov. 
Continue reading »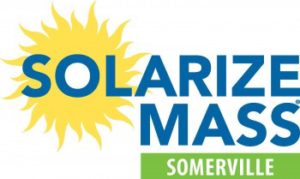 City's Solarize Somerville initiative earned a 5 kW system donation for exceeding home solar installation goal in 2016
One local nonprofit will soon be on a no-cost path to renewable energy. The Solarize Somerville initiative to help residents install solar panels concluded in December 2016, and as a result of exceeding our goal, the City's install partner SolarFlair will donate a 5 kW system to a local nonprofit.
Continue reading »
~Photos by Bobbie Toner
A rally took place last Thursday in opposition to Federal Realty Investment Trust's (FRIT) proposed alternative to the city's 20% affordable housing requirement. The rally, which took place at Somerville City Hall, was sponsored by Somerville's Affordable Housing Organizing Committee, Cambridge Somerville for Change, Indivisible Somerville, Our Revolution Somerville, Somerville Community Corp., Union United and The Welcome Project.

By Joseph A. Curtatone
Last week in Somerville, we hammered out a solution that will create new housing in Assembly Square and, ultimately, 80-93 new affordable housing units at Assembly and throughout the city. It marks a tangible result for people who care about expanding the amount of affordable housing in our community. Some people feel raw about that outcome because they wanted more, but the reality is the advocacy on this issue helped us achieve what we did.
Continue reading »
Mark your calendar for Thursday, June 1, at the Cantina La Mexicana in Union Square. The very popular Alderman At-Large Bill White will be holding his campaign kickoff/fundraiser. Bill has been known as one of the smartest alderman on the board, even by his fellow aldermen. He's been elected and re-elected as President of the Board now for a few years. We think Bill has been a good alderman for the people here in the city for many years and hope he continues. So come out and show your support for him. We think Bill is very dedicated to the city and who crunches the figures better and asks the right questions when budget time comes around.
Continue reading »