By Joseph A. Curtatone
(The opinions and views expressed in the commentaries of The Somerville Times belong solely to the authors of those commentaries and do not reflect the views or opinions of The Somerville Times, its staff or publishers)
City and town leaders, legislators, urban farmers and others from across Massachusetts came together last Friday at the State House for a symposium on urban agriculture. The story of urban agriculture in Somerville may seem like a new trend, but it's an idea with a deep history. Growing up in my neighborhood for example, we had families from Ireland, Greece, Portugal, Italy and other countries, who grew foods in their yards, shared it with their neighbors and supplemented their tables with what they had grown. I remember my mother having buckets out back in which she grew tomatoes. Today, Somerville still has backyard gardeners who hail from across the globe, but we also have new enthusiasts: foodies and locavores who prize local food that is healthier, fresher and more flavorful. As they bring new life and focus to the urban agriculture movement, they are actually returning our city to its roots—urban gardening and farming is part of our DNA. At the same time, with the educational, health, environmental and economic benefits that it brings, investing in urban agriculture is an investment in our future, too.

Continue reading »
— Photos by Claudia Ferro
Students and visitors learned about Somerville High School's Center for Career and Technical Education programs at the 2015 CTE Vocational Fair on Saturday, March 21.

Continue reading »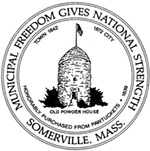 Volunteers sought for public space-public life survey to identify opportunities to reach public space goals
Gehl Studio, the U.S.-based arm of the internationally renowned design firm Gehl Architects, has been hired by the City of Somerville to advance its work toward creating 125 new acres of public open space. Gehl Studio will help identify opportunities and techniques to create new public space and enrich public life across the city.

Continue reading »
By Jim Clark
The massive snowstorms that crippled the northeast this winter caused more damage than is readily apparent to many. Until, that is, they get into their cars and attempt to negotiate some of the rougher stretches of roadway that have been mercilessly chewed up and spat back out by the virtual army of snow plows and earth movers that were utilized to dig Somerville out of its semi-glacial state during the aforementioned climatological calamity.

Continue reading »
Public Written Testimony on Rezoning Needs to Extend Beyond March 27th Deadline
(The opinions and views expressed in the commentaries of The Somerville Times belong solely to the authors of those commentaries and do not reflect the views or opinions of The Somerville Times, its staff or publishers)
Somerville Community,
The Friday March 27th deadline for written testimony regarding the Somerville Rezonng Ordinance is approaching. On Thursday March 3rd there was a public hearing on the Rezoning Ordinance. Since that time we have had the Somerville 3 day Charrette and a follow up meeting on Thursday 19.
By Patrick McDonagh
"They call me a broke boy." These words echoed mid-song through the event hall from mics of local rappers involved with The Hip Hop Transformation (THHT). Stories from event organizers and involved teens resonated with these words and the emotions one might feel when called a "broke boy."

Continue reading »

If you grew up in Somerville, chances are you probably grabbed a burger and a beer at the Rosebud and perhaps even attempted disco dancing at the Surrey Room after a few more beers.

Continue reading »
(The opinions and views expressed in the commentaries of The Somerville Times belong solely to the authors of those commentaries and do not reflect the views or opinions of The Somerville Times, its staff or publishers)
We write to thank the community members, the City of Somerville, Mayor Curtatone and his dedicated staff, city consultants, and all of those who took part in the City's recent design charrettes and prior visioning sessions and workshops, for your efforts to guide the future development of Union Square.

Continue reading »
By Douglas Yu
Eleven-year-old Mariana Plata never met her grandfather, because he had lung cancer due to smoking when he was alive. More importantly, this young mind realized that the danger of tobacco is affecting not only adults, but her peers as well.

Continue reading »
Groundwork Somerville presents its 15th Anniversary Fundraising Gala and Volunteer Appreciation on Friday, April 3 from 7-11 p.m. at Cuisine en Locale, 156 Highland Ave. in Somerville. Celebrating all night with live music by The Ways and Means Committee, along with prizes, and amazing food.