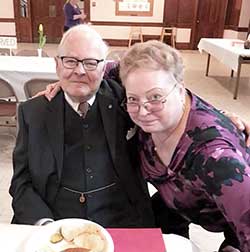 By Donald Norton
Lifelong resident Irving "Elmer" Johansen celebrated his 95th Birthday twice last week. Johansen (pictured here with his daughter, Diane Johansen) celebrated at his church with all the church members joining in.
They all turned out on Sunday after services to wish Johansen a happy birthday. The luncheon and desert was on Johansen, who insisted on taking care of the cost because he wanted to show his gratitude to his fellow church members.
Also, last Thursday a small group of friends gathered for a lunch at one of Johansen's favorite luncheon places, the Chateau in Andover.
Johansen is a great guy to talk to. He has so many stories of how wonderful Somerville has been to him over the years. He grew up here, went to school at SHS, married his high school sweetheart, Peggy, and raised his son Robert and daughter Diane.
Johansen still lives here in the city and loves Somerville, and has a different story regarding the history of the city every time you talk to him. He sat on many boards here in Somerville, including the YMCA and The Somerville Home, just mention a few. Anyone who knows Johansen knows how much he loves Somerville.
1 Response » to "Special happy birthday gathering"