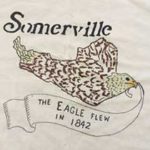 Eagle Feathers #145 – Somerville – Her Story

By Bob (Monty) Doherty
Through the years, much has been said about the heroic men who touched or stirred the hills of Somerville.
Myles Standish was the first European to explore her elevations.
Paul Revere began his famous ride through East Somerville and over Winter Hill to Lexington.
George Washington's troops raised the first American flag on Prospect Hill.
Marine Sergeant Henry Hansen was one of the flag raisers at Iwo Jima.
The city also boasts an impressive list of heroic women and how some men recognized them.  Here is part of HER-STORY.
The lead ship, bringing the first puritans and the Massachusetts Charter to the Mystic shores was named after one of its passengers. Her name was Lady Arbella, daughter of the Earl Of Lincoln. The ship's name, originally called the Eagle, was changed in her honor.
Anne Adams Tufts was considered one of America's first heroines. After the Battle of Bunker Hill, she tended to many wounded American soldiers in her Winter Hill home. Following the siege of Boston, she also nursed prisoners brought here regardless of their uniform.
Betty Davis, one of the biggest Hollywood legends to grace the silver screen, lived across from Teele Square's Firehouse Engine Six on Westminster Street and later on College Avenue near Davis Square. She coined the name "Oscar" for the prestigious actor's award; and at one time, she was the most highly paid female in the country.
Tallulah Bankhead, daughter, niece, and granddaughter of three United States senators, stood firmly on her own talent as an actress. She performed like many other stars at the Somerville Theatre.
Former Somerville brothers, Charles and Joseph Revson, founded the Revlon Cosmetics' empire, which was based on the aesthetic likes and dislikes of American woman.
New Year's Day, January 1, 1906, was the date the Fuller Brush Company opened its cellar door on Windom Street near Davis Square. Initially inspired by ideas and purchases of Somerville women and beyond, Alfred Fuller's company became a household name. In 1950 Lucille Ball starred in the film "The Fuller Brush Girl" which some say credit the beginning of our love of Lucy.
Mary Sawyer Tyler championed many causes, such as aid to Somerville Civil War soldiers, and worked to save Boston's Old South Church from destructive developers. Thomas Edison's first recorded words on his phonograph were "Mary had a little lamb." The heroine of this poem, little Mary Sawyer, grew up to become Mrs. Mary Sawyer Tyler and was a long-time resident of Somerville.
The Amelia Earhart Dam and its conning tower honor the female aviator. She accumulated speed, distance, and altitude records too numerous to list, and her status in female aviation was unrivaled. This memorial in Somerville honors her amazing feats. Once the loftiest structure in the area, the height now bows to the new Assembly Square and soon to be Wynn Casino down river in Everett.
Elizabeth Peabody was considered the first American female lecturer. She was brilliant, daring, and ahead of her time. She advocated for cleaner hospital operating rooms and medical equipment that reduced infant mortality and began the first English speaking kindergarten in the United States. Originally formed in Boston, the Elizabeth Peabody House was founded in her memory and came to Somerville's Winter Hill over a half century ago.
Through the years in Somerville, these and hundreds of other stories have kept "her-story" part of "her history!"
1 Response » to "The Somerville Times Historical Fact of the Week – January 24"