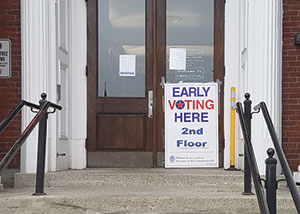 By Bob Katzen
State Auditor Suzanne Bump has recommended that a total of $1,063,978 be reimbursed to the state's 351 cities and towns to cover the costs incurred for complying with a 2014 state law requiring that all voters be provided the option of early voting in the 2016 General Election. The early voting law requires that municipalities set up a system that will allow voters to vote during a 12-day early voting period instead of just on Election Day.
This follows Bump's ruling that the 2014 mandate to set up a system for early voting is an unfunded, state mandated cost that under law must be reimbursed to cities and towns.
Under the recommendation, The City of Somerville would receive $8509.48.
The funding still must be approved by the Legislature and signed by the governor prior to the funds actually going to cities and towns.
Secretary of State Bill Galvin's office says that 22 percent or more than 1 million voters took advantage of early voting in 2016.
1 Response » to "City expected to be reimbursed for costs of early voting"