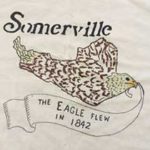 Eagle Feathers #143 – The Argonauts

By Bob (Monty) Doherty
In 1848 Somerville was a young, six-year old town trying to make it on her own. After her separation from Charlestown, her citizens had a long row to hoe to make it succeed through business and hard work. At that time, one town resident, Samuel P. Langmaid, established the new concept of ready-made doors and windows. Up until that time, doors and windows were custom made. Builders and carpenters assembled them on site as defined by the buyer.
1848 was an eventful year for America. John Quincy Adams, our sixth president passed away, and the forty-year construction of the Washington Monument began. America's war with Mexico from 1846 to 1848 ended in favor of America, with the United States acquiring 525,000 square miles.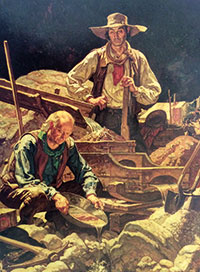 This acquisition, included today's Golden State, California, and six other western states. Although being significant and far reaching, these events were eclipsed by the discovery of gold outside of San Francisco that year. The finding of gold at Sutter's Mill prompted over 300,000 easterners, many from New England, to go west in their quest for riches. Some travelled by land across the country, and some traveled by sea around the tip of South America. Others experienced both by cutting through the jungles of Panama. They were labeled Argonauts because of their search of the classical Golden Fleece and Forty-Niners because that was the year the gold rush was initiated. They suffered greatly to get to the Sacramento Valley area and the newly named and fast-expanding town of San Francisco.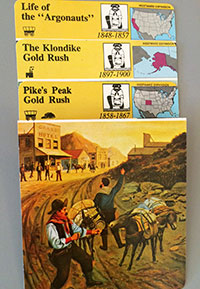 With so many people arriving to the undeveloped Pacific coast, Langmaid saw his opportunity. He hired and sent fully laden ships that quickly sold his products off their decks to the newly found rich. Thus, he made his fortune not from gold, but from the gold diggers. This enabled him and his family to acquire property in Boston, Charlestown, and Somerville where success followed. He held positions as Director of the Middlesex Railroad, President of the East Boston Gas Company and Alderman in Charlestown.
The family holdings in Somerville included the Highland and Langmaid buildings on Central Hill and his home on Langmaid Terrace at the intersection of Broadway and Langmaid Avenue on Winter Hill. This was once the residence of President Barack Obama while he attended Harvard University. Mr. Langmaid's company was located on Clyde Street, which is the present site of Maxwell's Green.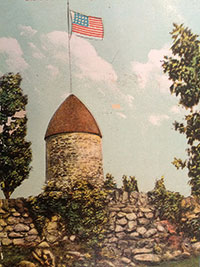 This wasn't the only discovery of gold to affect Somerville residents. Through the years, minute traces of gold were found in some veins across the city. In 1896 gold was discovered in the bluestone slate outcroppings near the shadow of the old Powder House. The site was alongside the corner of Willow Avenue and Foskett Street. It caused a lot of excitement that year, but the deposit was so small that the Gold Rush was almost over before it began. The establishment of the Somerville Gold and Silver Company was short lived. Today, the Argonauts are rushing to Somerville, not in search of gold, but for her historic real estate.