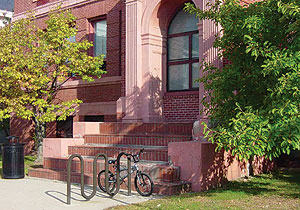 Parking on City Hall, SHS Concourse to be reduced beginning January 2018.
With construction on the new Somerville High School building project set to begin in January 2018, gradual changes to parking options on the Central Hill Campus (which includes City Hall, Somerville High School, and the Somerville Public Library) and the surrounding public streets will also begin at that time.
All interested residents are invited to join staff from the City's Capital Projects Management, and Transportation & Infrastructure departments on Monday, November 27, to discuss planned parking changes, and the recent parking study conducted by the consulting firm of Nelson\Nygaard. An extensive parking survey that examined parking utilization at various times of day on the Central Hill Campus as well as streets within a reasonable walking distance was conducted in spring of 2017.
The meeting will be held beginning at 6:30 p.m. in the Somerville High School Library, 81 Highland Ave. The study's executive summary is available for review at www.somervillema.gov/shsparking.
Questions? Contact Mike Tremblay in the Office of Strategic Planning and Community Development, at mtremblay@somervillema.gov.
Individuals with disabilities who need auxiliary aids and services for effective communication, written materials in alternative formats, or reasonable modifications in policies and procedures, in order to access the programs and activities of the City of Somerville or to attend meetings, should contact the City's ADA Coordinator, Nency Salamoun, at 617-625-6600 x2323 orNSalamoun@somervillema.gov.
~City of Somerville