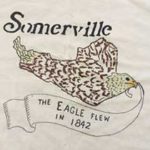 Eagle Feathers #141 – The French Redoubt

By Bob (Monty) Doherty
Central Hill, also referred to as Somerville's civic center, is the thirty-eight-acre site of land enclosed between Highland Avenue, School Street, Medford Street and Walnut Street.
*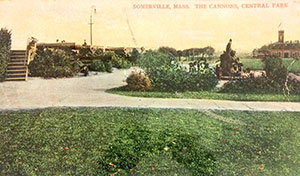 Since 1845, it has been the location of the City Hall, three churches, four schools, two libraries, a firehouse, and the city's first public park. The area was first brought to importance in June of 1775. After retreating from the Battle of Bunker Hill and expecting British attacks to follow, General Israel Putnam and Colonel William Prescott's troops strengthened and reinforced this area. Today's Putnam and Prescott Streets both bring notice to this fact.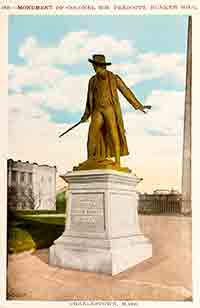 Americans dug trenches and built protective breastworks from Prospect Hill to Winter Hill, thereby bolstering those two strongholds and sheltering their flanks. In the middle of the fortress where today's Central Library lies, was a protected place of refuge called a French redoubt. It was designed as a fall back of last resort when under attack. Fortunately, the attacks never came.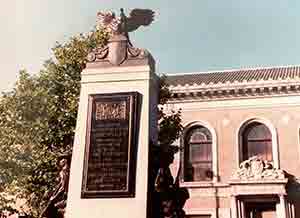 Over the next four years, this area became a training ground for the emergent Revolutionary Army, and later a prisoner of war camp for over four thousand British and Hessian prisoners. Remnants of this fortress lasted into the 1880's.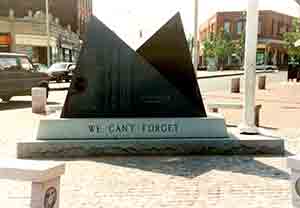 Union Square was named for the Union's cause, and the first Civil War monument in the nation resides in the burial ground on Somerville Avenue. On Memorial Day in 1909, an elaborate Civil War statue was dedicated in a more conspicuous place, Central Hill. A Spanish American War memorial was placed in front of the Central Library ten years later. It honors the soldiers and sailors who fought in that war, the Philippine insurrection, and the China Relief Expedition.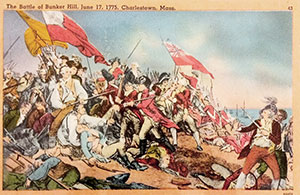 As years passed and emergencies arose, Somerville's patriotic men and woman stepped forward. Today, added statues and plaques dot Central Hill Park in solemn memory of World War I, World War II, Korea, Vietnam and the Beirut bombing.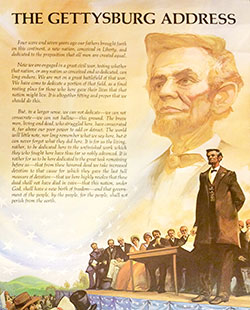 In 1930 at Somerville's City Hall, the Daughters of Union Veterans of the Civil War presented Somerville with a large bronze tablet bearing Abraham Lincoln's famous address. As Lincoln proclaimed at Gettysburg, "that from these honored dead, we take increased devotion to that cause for which they gave the last full measure of devotion – that we here, highly resolve that these dead shall not have died in vain."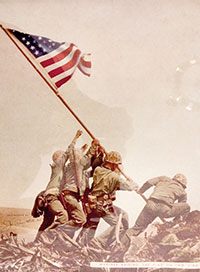 This past week we celebrated Veterans Day on November 11. It is not just a number on the calendar. Try to visit Somerville's Central Hill Memorial Park and remember that since 1775 our veterans have given their tomorrows so we could live our todays.