By Rob Carter
The Somerville Bicycle Advisory Committee (SBAC) plans to use traffic barrels to protect a new bicycle and bus lane created during the recent overhaul to Union Square's traffic pattern.
"The No. 1 issue for cyclists is the Prospect Street bike lane being used as a parking lane," said Mike Tremblay, Somerville's senior transportation planner.
Prospect Street was a one-way street until converting to two-way traffic July 29 and SBAC members say the traffic flow hasn't adjusted to the change yet.
"Unless you have a police officer at the front and barrels there, people in cars are going to use it" SBAC chair Ken Carlson said of the Prospect Street bike lane.
Tremblay said the MBTA still hasn't signed off on the plan by the time of the August 17 SBAC meeting because they needed to make sure the lane would be wide enough for its buses. He also added that the barrels were "a temporary solution until we come up with a more palatable long-term solution."
Despite the problems with Prospect Street, some SBAC members remained hopeful that the changes to the traffic pattern would ultimately be an improvement for Union Square.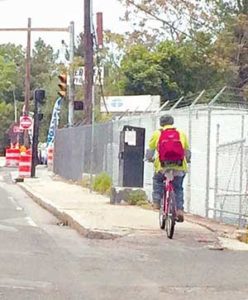 "You build the streets that you want to see and the traffic will sort itself out," SBAC member Mark Chase said. "We're building streets that are more like a city than a highway."
Tremblay agreed that, once traffic adjusted, Union Square would be more easily navigable thanks to the new traffic pattern. "81 percent of traffic in Union Square is not starting or ending in Union Square," Tremblay said. "If people are having to find routes that don't involve going through Union I think that's a good thing."
Before talk transitioned to lessons learned from the Union Square project, the SBAC outlined their major project priorities for the rest of the year. The group identified twelve streets that they plan to target for bicycle safety improvements.
Five streets – Sycamore Street, Marshall Street, Hancock Street, Gilman Street and Oliver Street – were identified as potential targets for contraflow bike lanes, where cyclists would travel in the opposite direction of the car traffic. The group also discussed plans to calm traffic on Cedar Street with chicanes, or slight turns added to the road meant to cause cars to move more slowly.
SBAC also hoped to add or improve bike traditional lanes to the other six streets discussed, Broadway, Park Street, Beacon Street, Webster Avenue, Elm Street and Beacon Street.
The project on Webster Avenue would add a protected bike lane from Prospect Street all the way to the city line and was a key target for the group due to large public support.
"This is one where we were like, 'Do this.' The mayor was like, 'Do this.' And [Ward 2 Alderman Maryann Heuston] was like 'Do this,'" said Carlson. "So there's a lot of political will to get this done."
Tremblay said the city was receptive to the ideas being proposed by the group. "We're all sold on bike lanes," Tremblay said. "We don't need to be sold on that."
3 Responses to "Bike lane modifications under consideration"