By Jordan Deschenes
The Board of Aldermen unanimously approved a resolution last week that called for the Department of Homeland Security to ensure the extension the Temporary Protected Status (TPS) program until 2019.
The document stated that the TPS program is "very much at risk" as in the wake of the Trump administration's immigration enforcement policies.
A TPS is a specially designated immigration status that grants protection from deportation to foreign nationals who cannot safely return to their home countries. The resolution will be sent to State Representative Michael Capuano and Senators Ed Markey and Elizabeth Warren to help further discussion in Washington.
"This is a question of fairness and equity. The country was founded on immigration and immigrants built this country. As a grandson of Irish immigrants, this is a situation where we've lost our moral compass," said Ward 3 Alderman Robert McWatters.
"We need to let the immigrant population in this country know that we support them and support their families, and that they are the fabric of our community."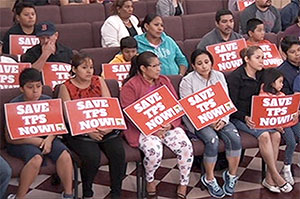 According to BOA President William White, the special status – which was introduced as a result of the Immigration Act of 1990 – drew widespread attention in recent years as a result of the 2010 Haitian earthquake that killed over 300,000 people.
TPS statuses are also granted to residents from nine other countries, most recently including Yemen, Nepal, and Syria. The Obama administration removed a federal "safety net" for the program to ensure that recipients find long-term employment. Consequently, TPS holders have been forced to work harder to support themselves.
"Folks should not be a position where this program is suddenly ended and they're forced to be deported from their homes. Because they are actually here and employed, they contribute to social security and Medicare, for instance," said White.
President White further acknowledged a large group of audience members whose countries of origin lie in war-torn regions of Central America such as El Salvador, Honduras, and Nicaragua. Several community members from the group were invited to speak about their experiences with the TPS.
Elizabeth, a legalized citizen and Somerville resident, stated that she has been living in the city for twenty-one years. Along with her husband – who has been granted a TPS – Montes has two children, both boys. Currently, the couple's eldest son is planning on studying at UMass Boston to be a forensic detective.
"I am very scared because if my husband is deported, my kids will not be able to continue studying and he is an important part of our family," said a Spanish translator speaking on her behalf. "This isn't just (about) my kids: it's also thousands of others – and so I thank you for your support."
Also present were members of Centro Presente, a statewide Latino rights organization based in East Boston, although it was formerly located in Somerville. Members of the organization were also invited to speak before the Board.
According to Patricia Montes, Executive Director of Centro Presente, the organization helps over 600 people renew their TPS per year – many of whom live in Somerville and are from Central America. Montes stressed that many immigrants who hold a TPS have been lawful residents in the United States for many years and have been paying taxes.
"We need your support. Why? Because Somerville is a progressive city and right now, the TPS is under attack," said Montes.
"I just want to encourage you to support this resolution and send a very positive and strong message to cities around the state and also to Washington D.C. to support people that are protected under the TPS."
According to Alderman At-Large Mary Jo Rossetti, the city's BOA plans on filing further resolutions if the federal government fails to recognize the demands set forth in the current one.
3 Responses to "City petitions DHS for Temporary Protected Status program extension"