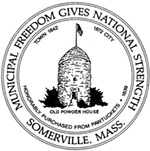 The Water Department will need to temporarily disrupt water service on Tuesday, July 18, for repairs starting at 9 a.m. to replace a hydrant and work on the water main. Service is expected to resume by approximately 3:00 p.m.
Once the water is back on, residents may experience a short period of water discoloration. Though the water may be discolored, it is safe to drink. Until the water runs clear, it is advisable to avoid washing clothes, especially white fabrics. If any rust stains appear on wet laundry, the clothes should not be dried, and residents can call 311 (or 617-666-3311 from cell phones or outside the city) for a free bottle of rust remover.
Thank you for your understanding as we complete this work.
— City of Somerville