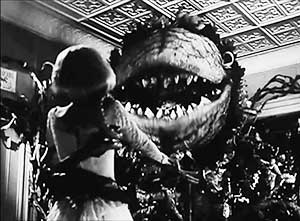 Somerville Media Center has brought back its Cinema Somerville Outdoor Movie Series for its 3rd year. This week's edition feature the 1960 production of Little Shop of Horrors, on Thursday, July 13, at The Growing Center, 22 Vinal Ave. Bring your own picnic at 7:30 p.m., screening at 8:00 p.m.
Cinema Somerville is a popup movie series and is free to the public. Seating is limited. Moviegoers are encouraged to bring their own portable seats, blankets, and lawn chairs. In case of inclement weather, movie night will be cancelled. Check the website (http://www.scatvsomerville.org/news/scatv-presents-cinema-somerville-movie/)or social media for up-to-date information.
Remaining July Lineup:
Thursday, July 20: Charlie Chaplin Marathon
Thursday, July 27: The Ghost Train (1941)
About the Collaborators:
Cinema Somerville is a popup movie screening project of Somerville Media Center. It builds community in Somerville through collaborations with community organizations and residents by presenting free public film screenings at various locations in Somerville.
The Somerville Community Growing Center garden is a place for people of all ages and backgrounds to gather, learn, and celebrate to grow community.
1 Response » to "Cinema Somerville Outdoor Movies: 'Little Shop of Horrors' (1960)"