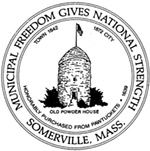 Somerville ratepayers wanting to uphold the standards of the Paris Climate Accord can shrink their carbon footprint by opting to increase their renewable energy supply to 100 percent through the City's Community Choice Electricity (CCE) program.
As of July 1, the City of Somerville will begin a new electricity bulk buying program (CCE) for households and businesses citywide. The goal of the program is to reduce and stabilize the cost of electricity for residents and businesses in Somerville, as well as increase the share of renewable "green" energy in Somerville's electricity supply. Somerville will be joining more than 60 Massachusetts cities and towns that take advantage of state law that allows them offer this type of "municipal aggregation" program. As part of the program, residents have the option of purchasing 5% renewable energy as well as the option for 100% renewable energy.
The "Somerville 100 % Local Green" option does come at an extra cost of $0.13198/kWh as opposed to the Somerville CCE standard rate of $0.10538/kWh. An electricity bill of $100 at the standard rate would cost approximately $112 with Somerville 100% Local Green.
Households that choose all renewable are helping make a significant contribution to Somerville's goal of becoming carbon neutral by 2050, as 22 percent of Somerville's greenhouse gas emissions are estimated to come from grid-supplied electricity. For example, if 500 Somerville homes signed up for Somerville 100% Local Green, that would be the equivalent of the annual generation of one 1.5 to 2 megawatt wind turbine.
To select the 100% Local Green option, contact the program supplier, Dynegy, directly by emailing DESCustCare@Dynegy.com or calling 866-220-5696 Monday through Friday from 9 a.m. to 8 p.m. Please have your Eversource account information available when contacting Dynegy. Program options can be changed at any time.
Ratepayers received a notification letter the first week of June and will be automatically enrolled in the Somerville CCE program on July 1, unless they opt out. Opt out cards with prepaid postage were mailed with the letter. The CCE program is optional, and ratepayers can leave at any time without penalty.
For more information on Somerville Community Choice Electricity, including a list of frequently asked questions, please visit www.SomervilleCCE.com.