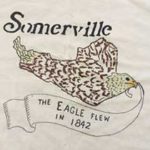 Eagle Feathers #131 –The Monument

By Bob (Monty) Doherty
While stacked high above the city waiting to land at Logan Airport, the pilot gave the travelers a brief history lesson. As the plane angled for a clear view, he pointed out the tallest monument in Boston, the Bunker Hill Memorial. Passengers were overheard saying, Bunker Hill? It looks more like Bunker Bump, but they soon viewed it as Bunker Mountain when informed about its historic saga.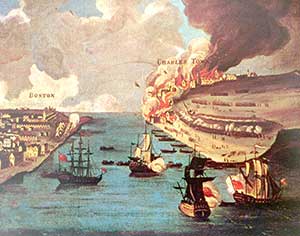 This was the site where on June 17, 1775, New England volunteer patriots fought toe to toe against the British Army, the best trained in the world. After opposing three assaults and inflicting terrible losses on the enemy, the Americans ran out of gunpowder and were forced to withdraw to Winter Hill. The tragic loss at Bunker Hill was devastating, with over 1,500 American patriots and British soldiers killed or wounded during this battle.
Every year Suffolk County and the City of Somerville officially celebrate Bunker Hill Day with a day off and a chance to celebrate and observe a parade down Main Street in Charlestown.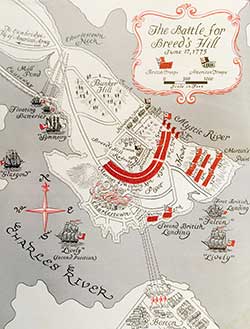 Somerville was the oldest daughter of Charlestown. She broke away in 1842, the same year the monument was finished. In 1794, the first monument erected on Bunker Hill was a Tuscan Pillar that was 18 feet high. It was funded by King Solomon's Lodge, now located on Somerville's Highland Avenue.
More than half a dozen streets in Somerville honor Bunker Hill heroes. In 1825, the section of Washington Street that stretches from Cambridge to the Charlestown line was candle lit to honor General Lafayette. He was the French patriot for the American cause who laid the cornerstone to the present monument. After his death, his body was laid in France with Bunker Hill soil.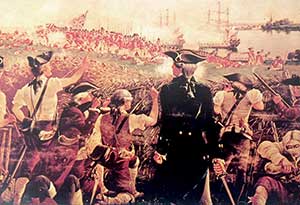 In Charlestown, like Somerville's 175th celebration, the "bring back the parades" excitement of yesteryear is growing. This year's slogan was "Make Bunker Hill Day Great Again," with the Bunker Hill Flag emblazoned in the background.
The leader of this push and the Grand Marshal of this year's parade was Robert "Becky" Beckwith. A solid "townie," Bobby worked for 34 years in public safety. He was a Somerville firefighter for over ten years, taking the job after the death of his brother Thomas.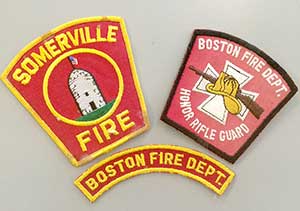 Tom Beckwith was one of the nine firefighters killed at the Hotel Vendome fire in Boston. Over half of the men killed there were from Charlestown and Somerville. The blaze took place 45 years ago on June 17, 1972, Bunker Hill Day. Becky spent the rest of his career in Boston as a Metropolitan District Commission police officer, and across the state as a Massachusetts State Police Trooper and Inspector.
With Bob Beckwith as this year's Grand Marshall, the Bunker Hill Block Party and Parade proved successful. The Townies, their neighbors, families and friends made Bunker Hill Day great again … while remembering why.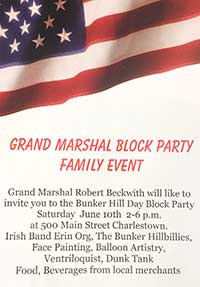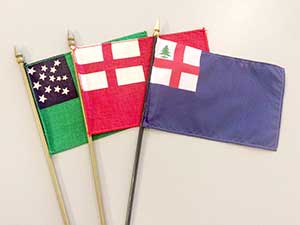 1 Response » to "The Somerville Times Historical Fact of the Week – June 14"