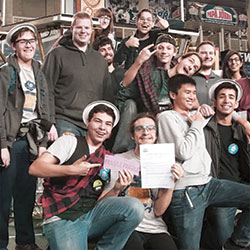 Somerville High School's Robotics Team is headed to the FIRST Robotics World Championships after impressive performances this season including at last weekend's New England District Championship in New Hampshire. The Highlanders are only in their second year competing as a team and have been facing off against much more seasoned competitors throughout the year. Not only has the team been among the top finishers at each of the events in which they've competed, they have also garnered recognition for outstanding sportsmanship and creativity, earning the Creativity Award at the Bridgewater SE event, their first event of the season, and the Gracious Professionalism® Award in Revere.
This is a fantastic achievement when you consider this is only the second year SHS has had a robotics team.  They were competing against teams that had 20 years of shared knowledge, experience and robotics parts.
Teams have six weeks to design and build their robots and ready them for the season's competition. Teams register in the fall, and district and regional events begin in late February and continue through April. Qualifying teams are invited to FIRST Championships, which is where Highlander Robotics team is headed next. They travel to the America's Center in St. Louis the week of April 24th for their first appearance at the FIRST Robotics World Championships. Visit https://www.gofundme.com/HiglanderRobotics if you would like to support the team.
Learn more about the 2017 FIRST Robotics competition at https://www.firstinspires.org/node/3651 and https://www.firstinspires.org/robotics/frc. Visit http://thehighlanders6201.weebly.com/ to learn all about the Highlander Robotics team.