*
Located in the heart of Magoun Square, Old Magoun's Saloon has been serving up traditional American and Irish food for over a decade.
Upon entering, the medium colored wood bar runs the entire length of the restaurant. There are plenty of televisions for watching numerous sporting events. The high ceilings feature the old tin style from many years ago. A fireplace surrounded by rustic stone and old style pictures adds a coziness around the seating area that includes both high top tables and regular height tables.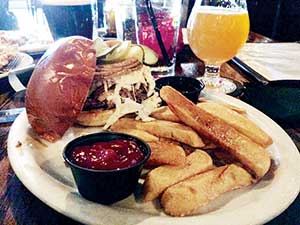 If you're looking for a large variety of craft beers, they offer 28 taps of beer from both international and local sources. They also offer special small batch bourbon whiskey.
Every evening they offer different events like tapping a different beer keg on Monday's, Trivia Tuesday, and Fish & Chips Friday's just to name a few.
There are many choices offered on the diverse menu, from chicken wings, shrimp, pot stickers to pretzels for appetizers and other varieties such as burgers, flatbreads and signature sandwiches and hearty entrées like shepherd's pie, Mac and cheese, and steak tips. Check out the brunch menu for a variety of bennies and skillet offerings.
The beef and blue flatbread had a thin, crispy crust and had a sweet flavor from the caramelized onions and tangy flavor from the blue cheese. The short ribs were tender and full of flavor with an array of spices that made every bite a symphony of flavor that has one craving for more. The grilled Reuben served on marble rye and thick cut house cured corned beef brisket, with ale braised sauerkraut and bacon infused thousand island dressing that adds a hint of smokiness to this fantastic sandwich. In my opinion, this is one of the best Reuben sandwiches around!
The Porkalicious sandwich served on a grilled brioche roll adds a nice hint of sweetness that compliments the smokiness of the house smoked pulled pork and with the addition of the frizzled onions and creamy coleslaw adding a crunchy aspect to the sandwich. The addition of the North Carolina style vinegar dipping sauce as well as the pickles, adds a nice acidic touch cutting through the richness of the pork and coleslaw, a truly perfect bite every time. If you're looking for a hearty sandwich to go with your craft beer, this is the place to go.
The staff offered fantastic, friendly service and was very knowledgeable of both the food menu and the beer list. A fantastic place to hang out for great food, great beer and catching up on the sporting event of the day.
Olde Magoun's Saloon
518 Medford Street
Somerville, MA 02145
(617) 776-2600
http://magounssaloon.com
Mon.-Thu. 11:30 a.m. – 1:00 a.m.
Fri. 11:30 a.m. – 2:00 a.m.
Sat. 10:00 a.m. – 2:00 a.m.
Sun. 10:00 a.m. – 1:00 a.m.
Brunch Sat.-Sun. 10:00 a.m. – 2:00 p.m.
Prices from appetizers to entrées $5.00 – $18.95
Visit Dorothy's website at http://ddimarzo2002.wix.com/thymethief.
3 Responses to "Olde Magoun's Saloon"