For the past 14 years or so I have been on the board of the Boston National Poetry Festival with Harris Gardner, and his partners in crime Somerville poets Kirk Etherton and Lucy Holstedt. Every year a number of Somerville poets participate in a wide range of events (along with many others), that span several days in April. I strongly encourage residents of the Paris of New England to attend!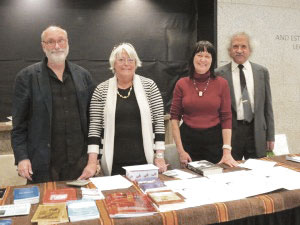 We are pleased to present our 3rd Annual High School Poetry Slam Competition. From 7:00-9:30 p.m., teams from six local high schools will compete at Alumni Hall on the Fisher College campus, 116 Beacon Street.
The Festival continues at Boston Public Library with 13 Keynote Poets.  They include winners of the Massachusetts Book Award, the National Book Award and the Pulitzer Prize. The Commonwealth Salon, 700 Boylston Street, 1st floor. 7:30-9:15 p.m. at The Community Church of Boston, 565 Boylston Street, 2nd Floor, we present our 4th annual evening of Poetry Music & Dance. This event is produced by Lucy Holstedt, professor at Berklee College of Music, and features writers and performers in an eclectic mix of genres, with artisits from Berklee and the greater Boston area. With financial support of the Middle East & ZuZu Restaurants and Music clubs, and in partnership with the Community Church.
At Boston Public Library, you can enjoy over 50 established and emerging poets, including Boston's Poet Laureate, Danielle Legros Georges, other former and current poets laureate, and professors at area colleges. Open mic both days.
Saturday also features a panel on Craft and Publishing.
Boston National Poetry Month Festival is co-sponsored by Tapestry of Voices & Kaji Aso Studio in collaboration with Boston Public Library.
For information, Tapestry of Voices: 617-306-9484. Library: 617-536-5400.
Boston National Poetry Month Festival, 2017
Boston Public Library, Central Library in Copley Square, Community Church of Boston, 565 Boylston Street, Fisher College, 116 Beacon Street, Boston
April 5-9
High School Poetry Slam Competition.
Dozens of Established Poets. Publishing Panel.
An Evening of Poetry, Music & Dance.
Emerging Poets and two Open Mics.
FREE ADMISSION to all events.