Eagle Feathers #116 – Mr. Jones and His Time

By Bob (Monty) Doherty
The year 1868 was exciting for Florentine Ariosto Jones. He was born in 1841, the year before Somerville broke away from Charlestown, and the young twenty-seven year old was free to do his own bidding.
For the previous three years, he had been working for someone else at what he loved, watchmaking. Florentine had tinkered with watches since he was a young boy, but now he learned from the best. This was with the E. Howard Company of Roxbury. It later moved to Waltham, commonly referred to as Watch City, and was one of the leading clock and watch manufacturers in the country.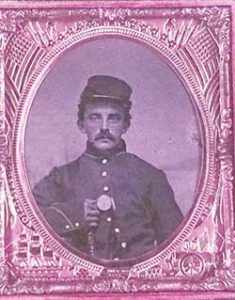 Before he was 21, he had enlisted in the13th Regiment of the Massachusetts Militia. For four years his army unit participated in many Civil War battles including Gettysburg. An old tintype photo, thought to be his image when a recruit, still exists today. It shows him holding a large pocket watch in his outstretched hand.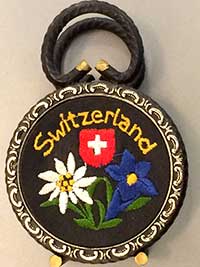 With an idea in his head and adventure in his spirit, Jones traveled to the land of the finest watchmakers in the world, Switzerland. Here, with American friends, he founded a company in Schaffhausen on the Rhine River that incorporated American manufacturing with Swiss precision. The original name of the business was F.A. Jones, later to become today's famous International Watch Company. Known as IWC, this company has been one of the world's leaders in Swiss luxury watch making for almost one hundred fifty years.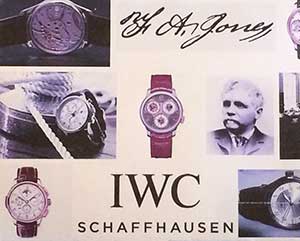 After the early foundation years of the company, Jones suffered financial problems and returned to America where he spent the rest of his life engineering and inventing. He spent his last decade living at 43 Adams Street on Somerville's Winter Hill.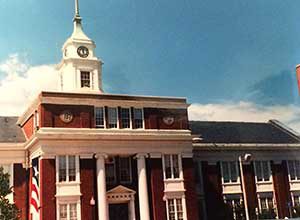 Sundials go back over ten thousand years, and are the oldest known devices for the measurement of time. You can see one on the professional building at 175 Elm Street near Davis Square. Clocks have been with us for approximately six hundred years. Some were elevated and constructed into community and private buildings, towers and pedestals for the public to observe. Somerville's Middlesex Court House, City Hall, the former Union Square Fire House, and Seven Hills Park are examples. For years, Davis Square has had a fine jeweler's clock located in front of 261 Elm Street.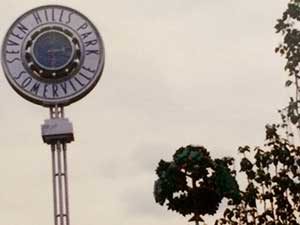 Following the clock in history, came the pocket watch which goes back about four hundred years. Then came the bridge between pocket watches and wristwatches which was crossed in the early nineteen hundreds because of military needs. WWI trench watches, aviation pilot watches, and shockproof, water-resistant watches came into being.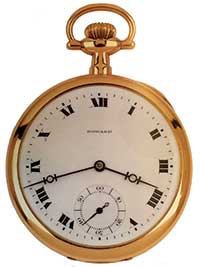 After the war, the lore of the wristwatch was unabated and still carries on today with IWC near the forefront with their luxury watches. Fans of superstars and the affluent have observed a long line of their idols wearing IWC treasures on their wrists. A small sample includes Sylvester Stallone, Tom Cruise, Arnold Schwarzenegger, Hilary Swank, Hugh Grant and Tom Brady. This year marks the100th anniversary of Jones's death in 1916.
To celebrate their founder, his former company created a beautiful commemorative watch in his honor. Watching from his Winter Hill perch, the spirit of Florentine Ariosto Jones must be proud of his timepieces!