Eagle Feathers #114 – The Scribes

By Bob (Monty) Doherty
With the invention of papyrus, came the age of books to record man's thoughts, words, and history. This was then followed by a place to house them called the library or libra, meaning house of books. For thousands of years since the Egyptian pyramids and earlier, books evolved from writings found on stone, wood, and animal hides. Later, it was scribed on paper and then to the electronic print of today.
Through the years, Somerville has supplied two main libraries and over a half dozen of its satellites that catered to the needs and wishes of her citizens. Many Somerville residents and friends have contributed greatly to them and other treasured reading rooms. Winter Hill resident, Edward Everett, helped establish the Boston Public Library in 1848 and was its first Chairman of the Board of Trustees. To help start its collection, he gathered, bound and gifted, at his own expense, the complete records of the Congress and Senate.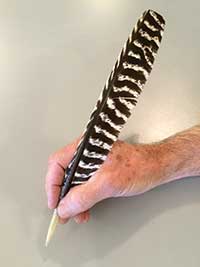 Russell Conwell, the first editor of the Somerville Journal and the founder of Temple University was on Somerville's Free Library Establishment Committee in 1871. Conwell Avenue, Conwell Street, and the former Conwell School were named after him and his son Leon, a former Mayor of Somerville.
Sam Walter Foss, a nationally known poet, was Somerville's librarian from 1898 to 1911. During that time, he built a book circulation second only to the Boston Public Library. Foss Park was named after his son, Saxton, a writer for the Boston Globe who was killed in World War I.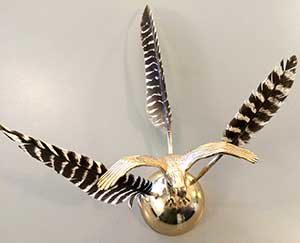 Harvard University's library is the oldest in the nation. It began in 1638 with a four hundred-book collection given by its namesake, John Harvard. At the same time, Governor John Winthrop of Ten Hills also donated a forty-volume collection of choice books.
A feather or quill, the instrument of the scribes' written word for thousands of years, tops Somerville's City Hall tower in the form of a weathervane. It reminds us that her first library, built in 1873, was a part of that building. It was later followed by a library built in 1884, which is the site of today's high school.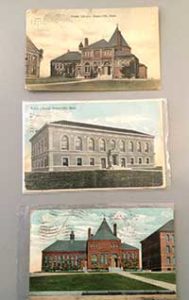 The present Central Library and West Library are listed on the National Register of Historic Places. The Central Library was designed by "E.T." – not the extraterrestrial, but architect Edward Lippincott Tilton. Its design is a mirror image of the original Ellis Island Federal Immigrant Station in New York City. He also contributed to the design of the Boston Public Library.
A famous quote at the turn of the last century states, "It was from my own early experience that I decided there was no use to which money could be applied so productive as the founding of a public library." He did this deed almost three thousand times throughout the world before he passed away at his home, Shadow Brook, near Lenox Massachusetts. His name was Andrew Carnegie, the immigrant rags to riches, King of Steel.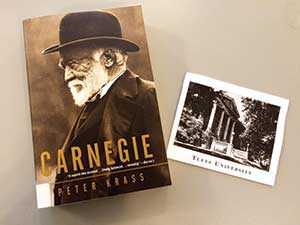 At that time, in 1901, he was the richest man in the world and his wealth amounted to $480,000,000. The philanthropist gave away ninety percent of this money, most of which was used in the construction of libraries. He often claimed that as a youth it was in a library where his foundation for business was established. The Somerville area benefited more than most by receiving substantial Carnegie aid to all of her libraries. Also, Tufts College's first campus library, Eaton Hall, was built with Carnegie funding and was named after Reverend Charles Henry Eaton who had officiated at the Carnegie's wedding.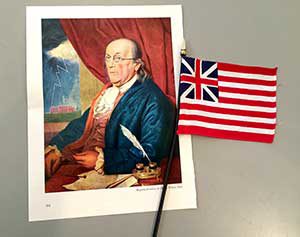 Benjamin Franklin was General Washington's Flag Committee Leader who designed and delivered the first Grand Union Flag to fly on our Prospect Hill on January 1, 1776. He was the author of the annual Poor Richard's Almanac. This statesman, patriot, and inventor was also one of America's most famous scribes. It was in Philadelphia that he established the nation's first lending library and was the only non-congressional signer of our country's most cherished document, the United States Constitution.