Eagle Feathers #113 –Beansprouts

By Bob (Monty) Doherty
"And here is good old Boston, the home of the bean and the cod, where the Lowells speak only to the Cabots, and the Cabots speak only to god." So went the famous toast given by Dr. John Collins Bossidy at the1907 Holy Cross Alumni Dinner in Boston. The toast referenced not only the Boston Brahman elite, but also one of the most important staples that nourished early immigrant settlers … the bean.
At Ten Hills Farm, Governor John Winthrop and the Puritans' existence in America relied heavily on the help of the Massachusetts Indians. Upon their arrival, friendly Native Americans helped them ward off starvation by teaching them their "three sisters" form of planting. Three crops of corn, beans, and squash were seeded in one spot. They would first establish corn, until it grew to about six inches. Next was the bean plant, which would grow up and twist around the tall corn stocks. This was followed by squash, whose large leaves would shade the root systems. At peak time, the three crops could be harvested from one spot.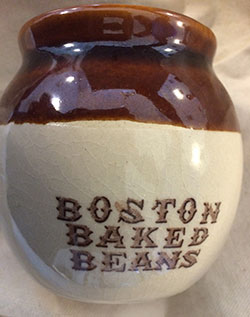 Of these, beans became a special New England favorite, flavored originally with bear fat, maple syrup, and later molasses. The Puritans slow baked them in pots on Saturdays because cooking on Sunday was forbidden. This created an over three hundred-year New England family tradition of beans on Saturday night.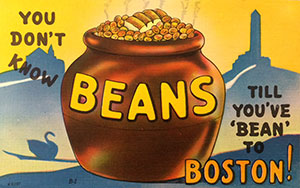 Beans and brown bread fundraising suppers became the norm. They were and still are sometimes held at school halls, churches, and firehouses. It's a good way to generate funds for the needy or pay for school supplies and sports activities. Speaking of sports, the early name for the Boston Braves was the Bean Eaters. Linked to our economy, beans have run the gauntlet from depression food to an exported delicacy.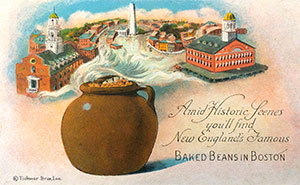 In 1952, the four largest Boston colleges grouped together to form a local hockey tournament. They were Northeastern University, Boston University, Harvard University and Boston College. Their quest was a silver trophy called "The Bean Pot." The annual event has heated up the winters in New England with excitement for the past 64 years.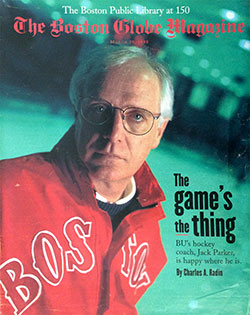 During this time, Boston University has dominated play behind the remarkable coaching of Somerville's Jack Parker. Throughout his combined 47-year history as a player and coach at BU, he tore up the record books. In his two score and seven years with the Terriers, he was a player for three years, assistant coach for three years, and head coach for forty years. A partial list of his coaching accomplishments include five-time Hockey East Coach of the Year, six-time New England Coach of the Year, and three-time NCAA National Coach of the Year. He is in Boston University's Athletic Hall of Fame, the Bean Pot Hall of Fame, as well as having Boston University's new hockey arena named in his honor. The Boston Bruins tried many times to recruit him as their coach, but his loyalty toward his kids proved solid and he stayed with his alma mater.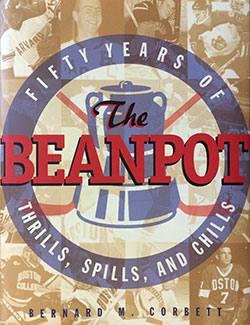 For many years, Union Square's popular Neighborhood Restaurant and Bakery honored Jack and his players for their feats by decorating its walls with their team photos. In 2013, the year of his retirement, this city invited him to do the honors of opening the Founders Memorial Skating Rink on Somerville Avenue. With twenty-nine Bean Pot Tournament victories to his credit, he richly deserved the nickname, "Jack and the Bean Pot." Somerville's most famous bean sprout … Jack Parker!