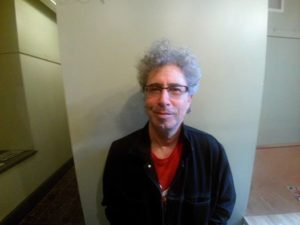 Interviewed Ken Field ( internationally acclaimed Jazz Composer) at the famed Bloc 11 Cafe in Somerville —
We talked about his work with Peter Wolf, Patti Smith, and others. Also we touched on his work with the Honk Festival, Sesame Street, New Orleans Jazz and so much more.
Ken Field is a saxophonist, flautist, and composer. Since 1988 he has been a member of the internationally acclaimed electrified modern music ensemble Birdsongs of the Mesozoic, with whom he has recorded eight CDs.
Field leads the Revolutionary Snake Ensemble, a New Orleans-inspired improvisational brass band. Year of the Snake, the group's 2003 debut, was included on best-of-year lists in NYC, New Orleans, and Milan. The 2008 release Forked Tongue spent 2 months on the CMJ North American jazz top 20 chart, and appeared on best-of-year lists in the Village Voice and in Georgia, Kansas, Wisconsin, Massachusetts, NYC, and Estonia. Live Snakes (2014) was an Editor's Pick in Downbeat Magazine. The group has performed at Kennedy Center for the Performing Arts, the Brooklyn Academy of Music, the Museum of Fine Arts (Boston), Berklee Performance Center, the Redentore Festival in Venice, Italy, and numerous other venues, and has been nominated for a New England Music Award, a Boston Music Award, and several Boston Phoenix/WFNX Best Music Poll awards.
Here is the podcast: https://archive.org/details/Z0000059