Eagle Feathers #102 – Patriots' Day

By Bob (Monty) Doherty
This past week, historic-minded citizens celebrated Patriots Day at Foss Park. It was a beautiful day, and a larger than normal crowd attended. They came to observe the reenactment of Paul Revere's historic ride. Period children's games were played and samples of food from the era went fast. The high school band's music filled the air with patriotic tunes and colonial-dressed volunteers complemented the true meaning of what this holiday is about … Patriotism.
In the early 1800's part of the twenty-six mile long Middlesex Canal flowed along the base of Winter Hill through what is now Foss Park and East Somerville. The source of the canal was drawn from the historic Concord River, and its celebrated water flowed through the park for over fifty years.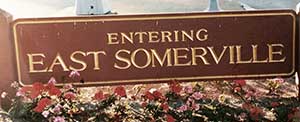 When the British invaded the countryside to confiscate powder and guns from the colonials, their high watermark was the famous bridge that arched the Concord River. Starting at its waters edge, the Americans chased the British into full retreat until they passed through Somerville into Charlestown.
The 1774 attack and plundering of our Powder House was, in effect, a dress rehearsal for the battle at Lexington and Concord nine months later. After this event, Paul Revere wrote to a friend, "The spirit of liberty was never higher than at present." Revere's ride prevented a repeat.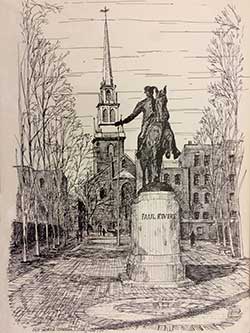 On his midnight ride through what is now Somerville, Revere was nearly captured by British cavalry. This original path toward Cambridge was diverted by way of Winter Hill to Medford, Arlington, and Lexington. If he had been caught, American history would have been rewritten.
Somerville was almost named after Revere's close friend, Dr. Joseph Warren, slain hero of the Battle of Bunker Hill. Because Revere performed Warren's dental work, he identified his friend's body.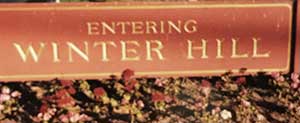 In 1777, after American victories in New York and Vermont, forty-two hundred English and German prisoners were held captive at Winter Hill and Prospect Hill. They were brought here under guard of Colonel Paul Revere.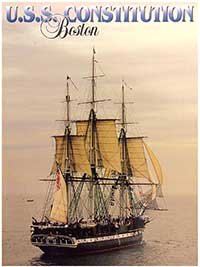 Paul Revere was not only a soldier, sailor, patriot and spy. He was also a businessman. His foundry produced cannons and bells, some of which still hang in this city. He provided the USS Constitution with bolts, spikes, blocks, and copper for her hull. He was the first to roll copper over the dome of the Massachusetts State House. Early on, he was an engraver and a silversmith who did much work for Elias Hasket Derby of Somerville, the nation's first millionaire. Derby Street on Winter Hill honors his name.
Through the years, Revere's name has emblazoned our city's parks, apartment buildings and businesses. Paving stones on which he galloped through East Somerville were at one time built into a city hall memorial fountain. Stone markers at Cobble Hill and the crown of Winter Hill make note of Revere's ride.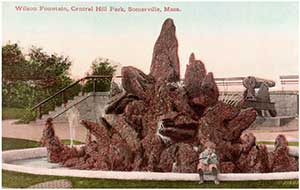 Cyrus Dallin, one of America's foremost sculptors, wanted to give a statue of Revere to Somerville reminiscent of the one he created at the Old North Church in Boston. This grand gesture never materialized, however, due to lack of funding.
Unlike most cities whose interest in the marathon has eclipsed Patriots' Day, Somerville is unique … it has Paul Revere's lore.
2 Responses to "The Somerville Times Historical Fact of the Week – April 27"