Eagle Feathers #99 – The Eagle

By Bob (Monty) Doherty
It has been called the "king" of birds in legend and lore. Its image is found in over sixty variations scattered across the world. In this country, it is a symbol of our nation, a majestic image of power and freedom. It is the American Bald Eagle, and its image is readily identifiable on our government buildings, military uniforms, and at patriotic celebrations. In Somerville, as well as in other cities, the eagle covers its terrain by exhibiting itself on our coins and stamps, on our statues, in our illustrations, and perched atop our flagpoles.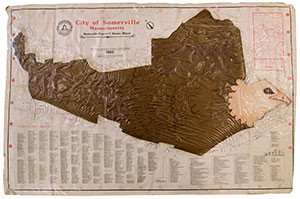 Many eagle-embossed memorials have been created throughout the city. They salute the sufferings endured and the sacrifices its citizens made throughout its history. These sacrifices were realized by men and women from native-born to new arrivals and make up the international patchwork quilt that is who we are.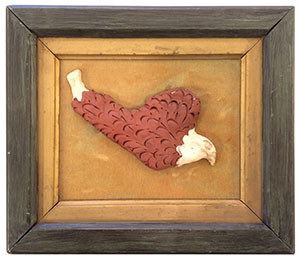 The "first" Somerville Eagle sailed up the Mystic River in July of 1630. The original governor of the Massachusetts Bay Colony, John Winthrop, arrived from England on the ship The Eagle and took residence at Ten Hills. He and his followers came here for freedom of religion.
The "tallest" is the eagle-clad Amelia Earhart Dam on the Mystic River. It honors both the famous aviator and women's rights.
The "oldest" is the 1863 eagle-crowned Civil War Monument. It was the first in the nation and is located at the Milk Row Cemetery on Somerville Avenue. These Somerville volunteers fought and died to keep our nation united.
The "greatest," in my opinion, is the shape of the city itself. Its eagle-shaped border was created on its separation from Charlestown in 1842. It is 4.2 square miles, making it the largest eagle in the country, sitting and greeting people from all over the world.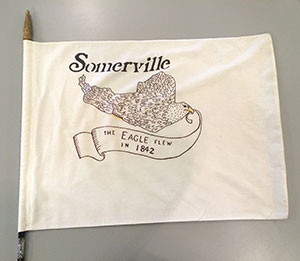 The Eagle Flew in 1842
It was the time the Eagle flew
The year was eighteen forty two
The Eagle flies above the sea
The Eagle is like you and me
She's white on crown and white on tail
To guide her through the sky and sail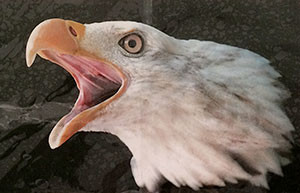 The Eagle flies above the sea
The Eagle is like you and me
Its wings are strong
Its wings are brown
Its dark breast proud
Its cry is loud
The Eagle flies above the sea
The Eagle is like you and me
Its talons are of golden hue
Its beak of yellow to breathe and chew
The Eagle flies above the sea
The Eagle is like you and me
Red skin and tongue and native spirit
Make us proud to see and hear it
The eagle flies above the sea
The eagle is like you and me
To live in peace and to live in love
The eagle prays from high above
The eagle flies above the sea
The eagle is like you and me
By Robert Doherty – 1989