Eagle Feathers #98 – The Monument

By Bob (Monty) Doherty
It lies on the grounds of the United States Naval Academy in Annapolis, Maryland. Being the oldest military monument in America, it has a storied past. The memorial commemorates the American sailors who died in the Tripolitan War. It has been alternately referred to as the Tripoli Monument, the Naval Monument, or the Somers Monument, and honors Master Commandant Richard Somers.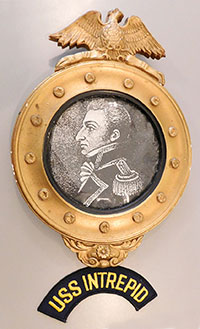 While a Lieutenant, Richard Somers was assigned to the U.S.S. Boston, the first ship to blockade Tripoli. During the summer of 1804 after fighting in five battles, he found himself on the Flagship U.S.S. Constitution preparing for what would be his last battle. He, along with two other officers and ten sailors gave their lives trying to destroy the Tripolitan fleet. They all had volunteered for this dangerous assignment. On the night of September 4, 1804, their vessel, the U.S.S. Intrepid, described as a floating mine or fire ship, sailed into the enemy's harbor. Whether from attack or design, the ship exploded prematurely, killing Somers and all on board. The damage to the enemy was considered minimal; but in the eyes of America and its Navy, these men were heroic. Their spirit would forge on with the rallying cry, "Remember the Intrepid."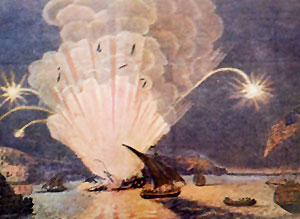 In 1808, Somers' fellow officers paid for a Roman-built monument in memory of the Intrepid's martyrs. The statue was transported on the U.S.S. Constitution to Boston and later travelled on to the Washington Navy Yard. In 1814, the English damaged the statue during the burning and ransacking of Washington, D.C. In 1831, Massachusetts' representative, Edward Everett, from Winter Hill, Charlestown, suggested the statue be centered in a park of its own. However, Boston architect, Charles Bullfinch, who designed Washington, D.C.'s Capital, ordered it to be relocated to its western entrance. In 1860, near the eve of the Civil War, the Somers Memorial was relocated to the Naval Academy.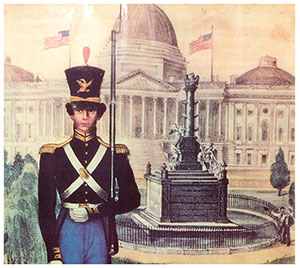 James Fenimore Cooper was America's first-born novelist. In 1842, Somerville's first year, Cooper wrote a biography of Captain Somers. He also then called for the remains of Somers and his crew to be returned home from Tripoli. Even to this day, the Intrepid's heroes lay there in unmarked graves.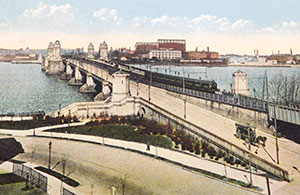 The Longfellow Bridge spans the Charles River connecting Cambridge to Boston. It is said to be the most beautiful in New England. Currently under detailed restoration, the bridge honors the renowned poet, Henry Wadsworth Longfellow. Henry's mother named him after his uncle, her brother, Lieutenant Henry Wadsworth, who died with Captain Somers at Tripoli.
Somerville records cite that their city's naming was "purely fanciful." Numerous encyclopedias and other reference books from the 1800's to current day claim that Somerville was named after Master Commandant Richard Somers. I think they are right.