Eagle Feathers #97 –Hobby Horses
By Bob (Monty) Doherty
Who first invented the wheel and why? No one knows for sure; but through the ages, it has been known as the world's number one invention that advanced machinery and transportation. The Mesopotamian Wheel, the world's oldest known, has been here for 5,500 years.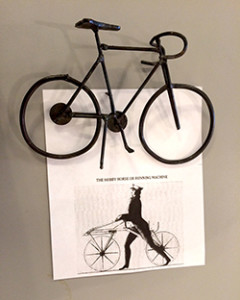 The year 2017 will mark two centuries since the German inventor, Baron Karl von Drais, pioneered what was to become today's bicycle. He set in line two wheels and bridged them together with a seat in between. He powered it by his own running and called it the Hobby-Horse or Running Machine. Early riders claimed that its independence made them feel like low-flying birds.
Two hundred years later, these modernized running machines are rolling all around Somerville and the rest of the world in various shapes, sizes, and models. Somerville is a bicycle-friendly city. During the 1970's and 1980's, Union Square was a center for specialty-built, lightweight bicycles. The city has provided and encouraged bike paths, lanes, routes, racks, shops, clubs and safety classes. Somerville likes bikes.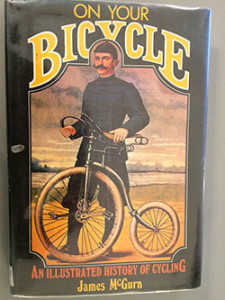 A parade would not be a parade without music and marchers. In Somerville and metropolitan Boston, a parade would not be a parade without the Cycling Murrays. This Cambridge family of performing cyclists has entertained Somerville viewers for almost thirty years, keeping the art of multi-cycling alive.
William Nickerson, a Massachusetts Institute of Technology-trained metallurgist was The Gillette Safety Razor's first Vice-President, engineer, and Boston University Trustee. Nickerson Field at Boston University is named after him. One of the first of his many projects was the building of Somerville's first bicycle, or velocipede, as it was called. While riding it, he startled many neighbors near his home on Winter Hill with its oddity and speed.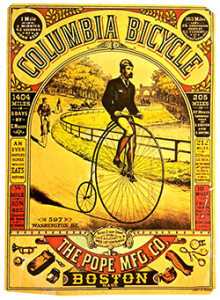 The first American velocipede manufacturer was Civil War Colonel, Albert Pope, of Boston. The velocipede was of English design, and he named his product the Columbia Bicycle. Pope was a founding member of the first bicycle club in America, The Boston Bicycle Club. For many years, a three-story brick building on Somerville's Perkins Street draped itself in an early Columbia Bicycle advertisement. One of Pope's ads boasted "an ever-saddled horse which eats nothing."
How popular is bicycling across the world becoming? Bicycling is more popular in Europe than here, although not nearly as popular as it is in China. China rightfully calls itself the bicycle kingdom and is home to nearly one billion two-wheelers. Presently, an automobile-free city of 80,000 (the same population as Somerville) is being built there. Deep-thinking lovers of bicycles such as Albert Einstein and Mark Twain would perhaps be pleased. Certainly Baron von Drais and his Hobby-Horse would be!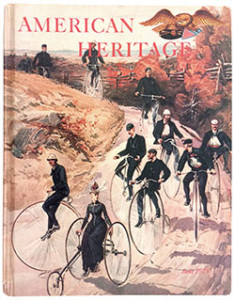 1 Response » to "The Somerville Times Historical Fact of the Week – February 17"