Eagle Feathers #96 – The Chiefs

By Bob (Monty) Doherty
"The First Combination Chemical, and Hose Reel, with Ladders, was invented by the Chief of Somerville, and exhibited Aug. 10, 1887. Humphrey (Dumps) of Engine 4, Boston operated the Tanks. The First Fire that it performed splendid service at was in Cambridge, Box 71. The fire was in the Cambridge Poor-House."
The above statement was true, as attested by James R. Hopkins, Ex. Chief Engineer, F. D. Somerville, Mass. This was a vanguard of today's fire truck design. It was one of many inventions he created to help enhance firefighting. Another was an all-in-one spanner, which tightened fire hose couplings and also worked as a wrench to operate hydrants. His most famous idea was the aluminum fire headgear that bears his name, the popular Hopkins Helmet. Some cities used them as late as the 1970's and beyond.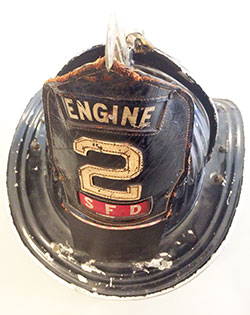 Hopkins and his men contributed more than fire protection to the city. They wired the first fire telegraph system. They also rescued from the Mystic River's mudflats the 200-year-old Blessing of the Bay's boat dock. Hopkins was also a woodworker; and he made furniture, gavels and other items from that ancient saved wood.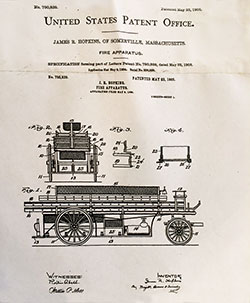 His mind was also organizational. He was instrumental in forming The National Association of Fire Engineers of which he was Vice President, and the Massachusetts Fire Chiefs' Club. He also belonged to the Massachusetts State Firemen's Relief Association, The Somerville Veteran Firemen's Association and other firefighting affiliations. During his last decade on the job, his men fondly called him "Uncle Bill" because of his close likeness to President William Taft.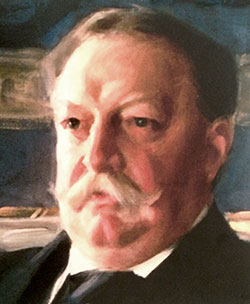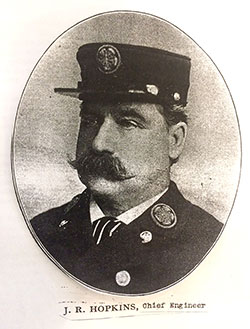 James Hopkins was born on Gore Street in Cambridge, just over the Somerville line. Thomas Casey was born on Beacon Street in Somerville, just over the Cambridge line. When young men, the two were members of the volunteer engine company, Niagara, of East Cambridge. Coincidently, they moved to each other's city, Hopkins to Somerville and Casey to Cambridge. They both volunteered and fought honorably in the Civil War. Hopkins left for Washington on April 19, 1861, and fought in the first Battle of Bull Run. At the war's end, they permanently joined their respective fire departments, both working their way up the ranks to Chief Engineer. The friends worked together closely through the years, establishing what was said to be the nation's first mutual-aid pact between cities. Casey was on Cambridge Fire for 51 years, 26 of them as Chief, while Hopkins was on Somerville Fire for 56 years, 38 as Chief of his department.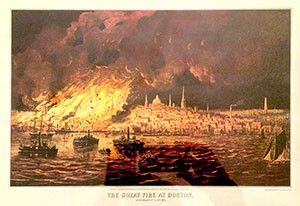 During their careers, they and their men fought innumerable fires alongside each other. Many were huge. They fought at the Great Boston Fire of 1872 that destroyed 776 buildings before it was stopped and the Chelsea conflagration of 1908 that incinerated over 1,500 structures across 350 acres. They also battled deadly infernos in their own neighborhoods of the Somerville Boynton Yards and of the East Cambridge Packinghouse district. These two brothers in trade rolled up statistics that most likely will never be matched. Combined, they gave their cities over a century of fire protection … hail to the Chiefs!