Eagle Feathers #94 – The Ice Men

By Bob (Monty) Doherty
Years ago, when the winter weather set in and the thermometer approached freezing, many teenagers would begin scouting their local ponds for ice. They didn't fear the cold, the frost, or the snow that came with it because their winter carnival had begun. Every town and village had access to a pond. When the time was right, scarves, hats, mittens, and gloves were donned and they were off sledding and skating. Fresh Pond in Cambridge, Spy Pond in Arlington, and the Middlesex Canal were popular destinations for Somerville ice fans.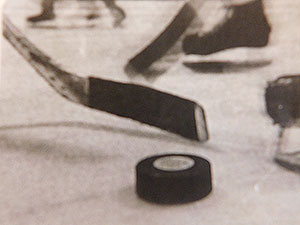 From 1777 to1778, thousands of British troops were held captive in what is now Somerville. It is said that English soldiers first introduced Americans to ice skating during the Revolution. As years went by, skating became a popular pastime. It was in 1896 on Spy Pond that Harvard beat Brown 5 to 4, establishing the nation's oldest college ice-hockey rivalry. At first, they played with a hard rubber ball instead of a puck and the game was called Ice Polo. Some pleasant irregularities of the sport continue through today, as witnessed this past weekend at Foxboro's Winter Classic. Men and women's professional hockey was played outside in a football stadium.
Being on the ponds wasn't always sport and recreation. In the 1800's many local men found their employment or livelihood in ice. One such family was the Hittinger's of Winter Hill who built their fortune in ice trading. Their enterprise was the Fresh Pond Ice Company where frozen water was harvested at Fresh Pond and Spy Pond. Its plant and warehouse were at 321 Washington Street in Somerville, and the Hittinger wharf was in Charlestown.
I'll bet you've heard that old saying, "The best salesman is the one who could sell ice to Eskimos." Jacob Hittinger sent his ice in the other direction. In the pre-refrigeration era, he was one of the first successful shippers of ice to as far away as Calcutta, the West Indies, India, and points south. Statesman and Winter Hill resident, Edward Everett, wrote about Fresh Pond ice and its natural industry. He reported that the President of India's Board of Control gave thanks for American shipments of ice for comfort in heat, but also for fever-suffering patients.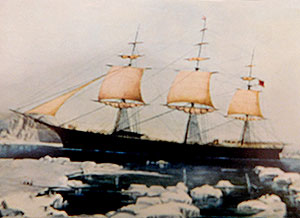 H.M.S. Britannia's maiden voyage began on July 4, 1840, sailing from England to Boston. She was a mail packet boat. In 1842, Charles Dickens sailed on her to Boston in his first trip to America. Two years later in January, the ship was back in America. She was frozen at her berth in East Boston during the astonishingly cold winter of 1844. Boston was so cold that her harbor was completely ice bound, and that created a disastrous problem for its maritime commerce. Local workers were hired to clear the harbor, but as hard as they tried, they failed. The merchants of Boston then hired the Gage and Hittinger Company to attempt the massive job. Hittinger took his cutting crews, who were harvesting Spy Pond and Fresh Pond ice at the time, and brought them and their gear to Boston. After four days of near backbreaking work, they completed the next to impossible task of cutting a channel through the harbor to the open sea. The path they cleared was 200-feet wide and over ten miles long. Thousands of spectators crowded the docks while others walked, sledded, and skated across the harbor jubilantly escorting the Britannia along the canal to freedom.
In later years, the Hittingers would reside atop Winter Hill where they would look with satisfaction at the harbor where their intrepid "ice men" were once the pride of Boston.