Annual celebration of America's first flag raising to be celebrated by City and State officials, residents, and "George Washington" on horseback.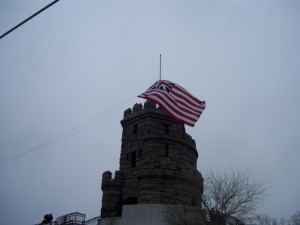 Mayor Joseph A. Curtatone and Historic Preservation Commission Director Brandon Wilson announced that the 240th annual "Grand Union" flag-raising ceremony at Prospect Hill Park will be held on Friday, Jan. 1, 2016, at 12 p.m. A processional led by a re-enactor portraying General George Washington on horseback will leave from the City Hall Concourse at 11:30 a.m. As always, members of the public are invited to participate, and are encouraged to wear traditional colonial clothing. The annual ceremony commemorates the raising of the nation's first official flag, featuring thirteen red and white horizontal stripes, atop Prospect Hill on New Year's Day, 1776. At the time, Prospect Hill was a key site in a string of fortifications created by Washington and the Continental Army in their siege of British troops in Boston during the first year of the American Revolution.
The afternoon's program will include songs, readings, and participants from the Ancient and Honorable Company (first chartered in 1638), as well as the Charlestown militia. This year's celebrations will include His Majesty's 10th Regiment of Foot, who will be representing the British Army and will be bringing a message from King George III. Once again it will be a honor to have Major General L. Scott Rice, the Adjutant General for Massachusetts, in attendance, and the American Legion Post 19 Honor Guard to lead a military salute as a commemorative flag is raised atop the Prospect Hill Tower.
Light refreshments will be served, and miniature replicas of the Grand Union Flag, both as a flag and a lapel pin, as well as colonial-era tri corner hats and historic Somerville books commemorating the event will be available for purchase.
In addition, this year's events will celebrate the first project completed by the City utilizing funds from the Community Preservation Act (CPA), which was passed by Somerville voters in 2012. Somerville's historic Prospect Hill Tower recently underwent renovations, completed in December 2015, including repairs to the interior and exterior walls and staircases. $500,000 in renovations were approved in March by the Somerville Board of Aldermen following recommendations by City's Community Preservation Committee.