Eagle Feathers #75 – Torpedoes Away

By Bob (Monty) Doherty
Before Vice-Admiral Ralph Waldo Christie left the U.S. Navy in 1949, he had spent thirty-eight years working his way up the ranks. The Somerville native graduated from the Naval Academy in 1915. As an Ensign, he had various duties. His first ship assignment was on the battleship, New Jersey, where he received instruction on submarine construction and torpedo design. This prepared him for the newly opened Submarine School in New London, Connecticut, becoming one of its first members. By 1923, he had earned a Masters Degree in Mechanical Engineering from the Massachusetts Institute of Technology.
During these eight years, he captained four different submarines and was involved in top-secret torpedo guidance programs. Some of this torpedo testing was done on the historic ship, the U.S.S. Indianapolis. Seventy years ago on July 30, 1945, after dropping off the ultra-secret materials to build the first atomic bomb at Tinian Island, the Indianapolis was sunk by Japanese torpedoes. Out of a crew of 1,196, only 317 survived. Eight hundred and seventy-nine sailors and marines died, most from horrible shark attacks. It was the worst naval loss at sea in American history. If you saw the original movie "Jaws," you would have been utterly moved by the story of the Indianapolis and the fate of its sailors. A Hollywood movie, depicting the fate of the U.S.S. Indianapolis' catastrophe, is now being produced by Robert Downey Jr. and his wife.
When World War II began, the then Captain Christie was already in command of six boats (submarines) in Atlantic Ocean waters. They were on full wartime footing. After Pearl Harbor, he and his boats were ordered to Australia. They were to set up bases, patrol Southern Pacific harbors, and attack enemy ships, which they accomplished. While commanding Taskforce Forty-two, his boats sunk thirty ships, 181,800 tons, and damaged 20 more. Within a year, he was promoted to Rear Admiral and Commander of submarines in the South Pacific.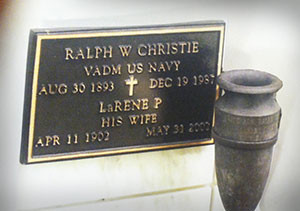 During the early months of combat, many captains reported misfires or duds with their torpedo shots. Because he had been involved in early torpedo research, this bothered him. It took some time, but the problems were finally corrected. Admiral Christie was the highest-ranking Flag Officer to engage in actual submarine wartime patrols. He joined one of them on the tail end of an epic patrol. The boat's name was "The Harder," commanded by Captain Samuel Dealey of Texas and had sunk three Japanese destroyers on that fifth mission. Later, the Harder and its crew were lost on their sixth mission. At Admiral Christie's urging, Captain Dealey was awarded the Medal of Honor posthumously.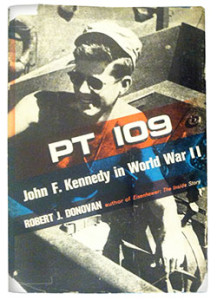 Not all torpedoes were launched from submarines. Some were dropped from planes, and some were launched from P.T. (patrol torpedo) boats, such as former Lieutenant John F. Kennedy's PT-109. Kennedy went on to Congress representing the Somerville area before becoming President. "Dealey Plaza," in Dallas, Texas, is the site of the former President's assassination. It is named after newspaper publisher George Dealey, the uncle of Submarine Captain Sam Dealey.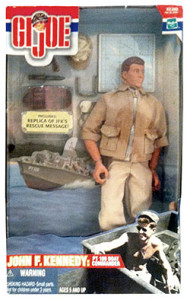 During his career, Vice Admiral Ralph Waldo Christie received many honors and awards. Among them were the Navy's Distinguished Service Medal, the Navy's Legion of Merit, and the Army's Silver Star for gallantry in action while serving as Commander of Submarines in the Seventh Fleet. The Silver Star medal was presented to him by General Douglas MacArthur.