Eagle Feathers #74 – Bringing Light to Somerville

By Bob (Monty) Doherty
In 1853, when Somerville's Charles Tufts was asked what he intended to do with his large parcel of land in the western part of the city, he replied, "I will put a light upon that hill." Today, this light brightly burns on in the form of Tufts University and is on its college seal that proclaims in Latin, "peace and light."
Frederick Stark Pearson, a Tufts alumni, lit up a good part of the world in his fifty-three year lifetime. Beginning at sixteen years old, he worked for the Boston and Lowell railroad as a Stationmaster at the Walnut Hill stop. In 1879, through the acquaintance of Tufts faculty members who frequented the station, he was allowed admittance to the college. Within a short period of time, he proved himself worthy of their decision. It was like leading a duck to water.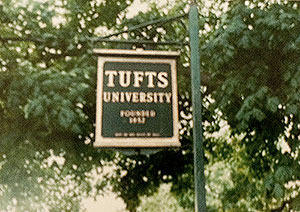 Fred loved mathematics, engineering and chemistry. He took classes at Tufts University and the Massachusetts Institute of Technology. After graduating from Tufts in 1883, and graduate school from MIT in 1884, he taught chemistry at Tufts for three years. At one period, his Somerville residence was at 85 College Avenue.
Finding no permanent interest in teaching, the young man ventured out into changing the world … and what changes he's made! He was a brilliant engineer and had no problem finding backers for his ideas through the years. Early on, his first electrical engineering feat was establishing the Somerville Electric Light Company, constructing its first generating station in Union Square. It was the first power company to provide electricity for Somerville's streets and houses. A generating plant was later built at 110 Willow Avenue abreast of the bike path and still stands today.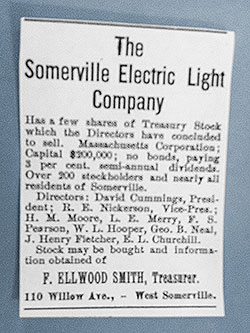 His success then spread to other towns. One of his next endeavors was to electrify Boston's trains when he became the Chief Engineer of the West End Street Railway. It was the progenitor of today's Massachusetts Bay Transportation Authority. Thus accomplished, he successfully did the same in Providence, Brooklyn, and other American cities.
A lover of traveling, he took his work with him to three continents. He developed hydroelectric power from Canada to South America and built dams in Texas and Mexico for irrigation of arid land. He founded Natalia, Texas, in his daughter's name. Transit systems of European cities in France, Italy, Portugal, Switzerland, and Spain benefited by his engineering and planning expertise. Also, the town of Pearson, Texas, is named in his honor, as well as streets in other countries. The city of Barcelona, Spain, paid him tribute with a stately statue.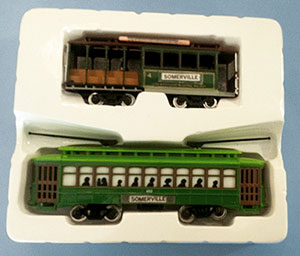 This spring we will celebrate the 100th anniversary of his death on May 7, 1915.
Dr. Frederick Stark Pearson, his wife, and his secretary, David Walker, were three of the 128 Americans who were killed in the tragic torpedoing of the ship, Lusitania. This tragedy helped launch America into World War I.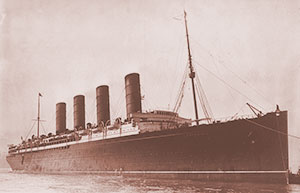 In Somerville, he is remembered by the naming of Pearson Road and Pearson Avenue near the Powder House rotary and the Pearson Memorial Chemistry Laboratory of Tufts University on Talbot Avenue. In his memory, the completion of the MBTA's Green Line in Union Square will cast the shadow of Dr. Pearson and bring him home full circle.