Eagle Feathers #69 – Henry's Tin Lizzie
By Bob (Monty) Doherty
The year was 1926 and Henry Ford – "The king of the road" – had already sold fifteen million automobiles. The product was his "Model T," nicknamed the "Tin Lizzie." It had been the best-selling car in the world for the previous eighteen years.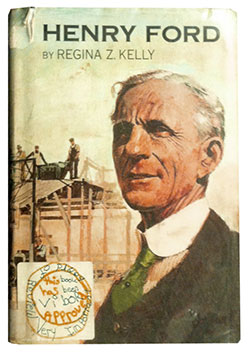 When he began his company in 1903, competition was fearsome. There were over fifty early automakers to compete with, most creating custom-made and expensive cars. For each experimental automobile Henry designed, he would give it a lettered name. It took until the letter "T," his twentieth attempt, to satisfy his own demands. He didn't invent the first automobile, but he was the first to deliver it to the multitudes by way of his "modern assembly line." His car was modestly built with few parts and was inexpensive. It got you where you wanted to go. For two decades this pleased the average person. They were offered in any color option, as long as it was black.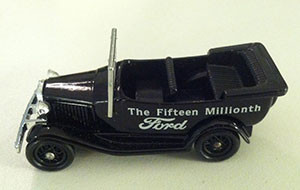 By 1926, Ford's son, Edsel, convinced his father to modernize. The "Model A," named after his father's first car, was born again. It came with its more powerful engine, designed by Henry, and the new more modern and pleasing body, designed by Edsel.
New plants were created to assemble these cars. The Somerville assembly plant was built to supply New England, and the model "A's" would be its first creation.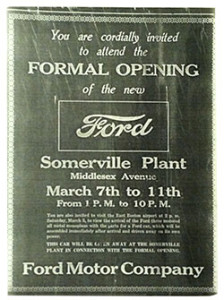 Seven styles were offered, with a choice of something new… four colors. The "Model A" would be built in Somerville for the next four years, being replaced by other styles until World War II interrupted auto production.
At that time, the plant retooled and went to work 24/7, turning out more than 20,000 "Universal Carriers" and other military equipment. These were armored tank-like infantry vehicles used by the allied armies around the world. They were built in Somerville and tested in Revere's desert-like sands. During the fighting, Army and Navy acknowledgement awards were given to the Somerville workers by both the United States and British dignitaries.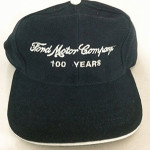 After the war, retooling was done once again. In 1948, 500,000 tons of iron was used to build 75,000 cars at Assembly Square. If rolled off the line and placed bumper to bumper, they would produce a traffic jam from Boston to Miami.
Somerville supplied over 250 New England dealers by truck, rail, and ship. One of the famous post WWII auto styles built here was called the "Fairlane." It was named after the Ford family's estate in Michigan. Edsel Ford was president of the company for 25 years. He guided his father's brainchild successfully from 1918 to 1943 until his early death at age 49.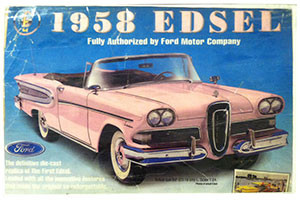 It is sad to reflect that the Somerville plant began with a successfully designed car by young Edsel Ford in 1926 and ended with an unsuccessfully designed car that had been built in his memory. During the 1926 to1958 lifetime of the plant, 1,338,652 cars were produced. The last automobiles to roll off the line at Somerville's Assembly Square were 400 colorful and sparkling "Edsels."