Eagle Feathers #64 – On Guard!
By Bob (Monty) Doherty
*
Olympia was her name … fencing was her game … and acting was her fame.
Her immigrant mother and father came to America from Greece and named her after the fields of Olympia, the site of the ancient games. As a young girl, she grew up in the tough ethnic neighborhoods of Lowell and Somerville and learned to be a scrapper while living here before, during, and after World War II.
She volunteered at Christmas time to ring Salvation Army bells; and with her love of books and reading, she haunted the Somerville Library. She diverted her aggressions to basketball courts, and later by taking up fencing with the Boston Fencing Club, the oldest in the nation. In this arena, she found that she fit like a glove, winning the New England Fencing Championship three years in a row.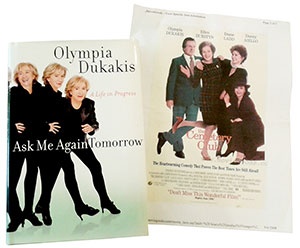 This energy was paramount in her life-long development into the Oscar-winning actress of today whose star decorates Hollywood Boulevard. After her high school years, she trained for and survived the dangerous occupation of physical therapy. It was risky, because this was during the country's worst Polio epidemic years. She then returned to school at Boston University, pursuing her life-long passion of acting.
Olympia perfected her craft and won the laurel-wreath of acting, an Oscar, for the movie Moonstruck. This opened the floodgates to other acting opportunities, in movies such as Working Girl, Steel Magnolias, Mr. Holland's Opus and Look Who's Talking. These and many other opportunities also came her way.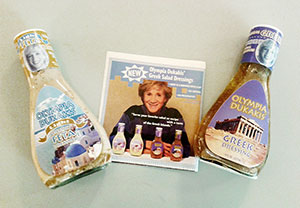 She became so popular that she was selected to introduce her cousin, the past Massachusetts Governor and then Democratic Presidential candidate to the Democratic National Convention. Another leaf in her laurel cap was the naming of four Greek salad dressings after her. To some, this put Olympia on the same table as Newman's Own.
Applause and laurels to Somerville's actress and champion, Olympia Dukakis. Touché!