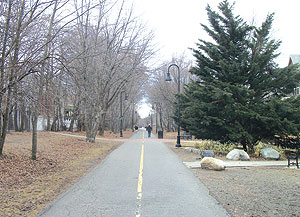 The Community Path is going all the way to Boston and to celebrate, the City of Somerville and the Friends of the Community Path are throwing a zero-waste community party that aims to create little to no trash. Come celebrate the recent Community Path progress on the expansion to Lowell St. as well as the announcements by Governor Deval Patrick, the Massachusetts Department of Transportation (MassDOT), and the MBTA that
the Community Path Extension will be built as part of the Green Line Extension project
.
The "Party on the Path" is planned for Saturday, Sept. 6, from 2 to 6 p.m., with music, refreshments, and children's games all afternoon, along the Path in front of Lexington Park (where Highland Road meets the path). This celebration is free and open to the public. Keeping with the city's commitment to sustainability and a healthy community, the celebration will also be "zero-waste," with the goal of creating little to no trash by using re-useable plates and silverware, and including a composting component for food products.
"Thanks to the great work of Governor Patrick and his entire administration, our state and local officials, and our community partners at the ground level, we have made tremendous progress on the Community Path and, as of this year, its planned extension into Cambridge and Boston," said Mayor Joseph A. Curtatone. "This project is about much more than biking and walking. It's about building a community and a region that is equitable, connected and vibrant, and it's time to celebrate our accomplishments and look to the future of Somerville's transportation network."
"I'm looking forward to celebrating the state's commitment to extend the Community Path to Boston and the extension of the Path this fall to Lowell Street," said Ward 5 Alderman, Mark Niedergang. "None of this would have happened without the leadership and activism of Friends of the Community Path, Somerville Transportation Equity Partnership, elected officials and so many other organizations and individuals in Somerville."
"The Friends of the Community Path have been striving since 2001 to make this Community Path Extension a reality. This 2-mile Path link from the Minuteman Trail to the Charles River will make for almost 50 continuous miles of path network, and it will make the Green Line extension a truly multi-modal project," said Lynn Weissman of the Friends of the Community Path. "With millions of trips projected each year, the Community Path extension will help advance the state's Mode Shift goal of tripling the bicycle/pedestrian/transit travel share by 2030."
For more information, or to RSVP to the party (not required), visit the Friends of the Community Path Facebook page: www.facebook.com/FriendsoftheCommunityPath.
A rain date for the event has been set for Saturday, Sept. 20.
— City of Somerville
6 Responses to "Zero-Waste Celebration, 'Party on the Path' September 6"