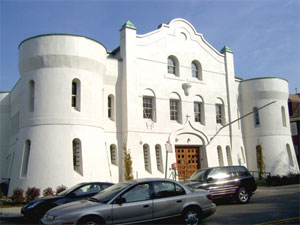 By Sangwoo Kim
For those Somerville and its neighborhoods' residents, I would like to take this time to introduce a great local artistic and cultural institution that resides among us. While it is true that Boston is full of places where people can swing by for cultural and artistic events, I wasn't sure if this was the case for Somerville.
As a Tufts Alumni, who has been residing in Somerville for over five years, I could always find 'it-places' for food in Davis Square, for example try Burrito at Anna's Taqueria and Mopsy's Kalua Pork Pie Pizza at Flatbread, I always had a hard time finding 'it-place' where I could just swing by and enjoy cultural and artistic event until I found this place in Highland Ave, Somerville.
I first visited Arts at the Armory through attending farmers' market during the winter of few years ago, where local vendors come in to introduce and sell their products that range from fresh fruits, vegetables, meat, seafood and baked goods at affordable, cheap prices. People were friendly, there were wide range of fresh, locally-grown food, but most importantly everything was so damn, excuse my language but there's no better way to express it, delicious!
And ever since, I've visited Arts at the Armory for a variety of different events that include comedy, poetry reading, jazz night, open-mic, art exhibition and yoga! Actually I realized that they offered pretty much everything, anything that you are looking for. I remember last year, I happened to stop by the Armory(because I live very close by) and saw Boston Symphony Orchestra rehearsing(for free, they sounded so beautiful and because it was for free, they perhaps sounded more beautiful that they would normally have. haha)
But anyway, I love this organization and I figured that this institution deserves more love than it is getting now. So I'm sharing my love and passion for this organization with fellow Somerville residents and their neighbors. I know that this upcoming week, they hold an interesting event for kids where the participants play acting games, make sets and costumes, learn their roles, and give a final performance at the end of the session. For event detail, you can check out here!
Well! That is it for my post. Hope readers of this post get to enjoy as much benefits that Arts at the Armory offers as I do! In the meantime, have a wonderful day!
Sangwoo Kim is a recent grad from Tufts University who majored in Economics and Art History.