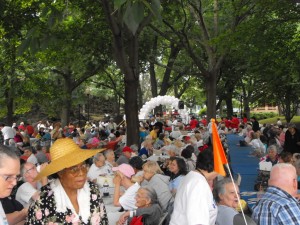 Somerville's Annual "Old Time" Senior Picnic will take place Wednesday, August 6, 2014 (Rain Date: Friday, August 8) at Powderhouse Park. It's a great day filled with lunch, dancing, music, entertainment and prizes galore.
Tickets available at the following locations:
Holland Street Center (167 Holland St.)
Cross Street Center (165 Broadway)
Ralph & Jenny Center (9 New Washington St.)
Mayor's Office/City Hall (93 Highland Ave.)
Please give Connie a call if you need additional information at 617-625-6600, Ext. 2300.