Eagle Feathers #56 – Hometown
By Bob (Monty) Doherty
For more than a century, Somerville has been known throughout the Boston area as "The City of Homes" because of her building density and limited area. Her oldest home will turn three hundred years old this year.
The "home" in the title that we are referring to is the most ancient house in Somerville. It is the 300-year-old Oliver Tufts Homestead located on Sycamore, one block from Lee Street, and built in 1714. Happy 300th birthday to Tufts House.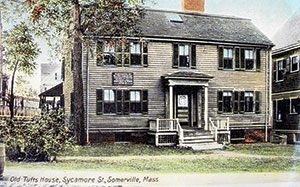 It was already seventy-one years old when the Revolutionary War began. The legend on the house today reads, "Headquarters of Major General Charles Lee, commanding left wing of the American Army during the siege of Boston 1775-1776."
Lee was a well-seasoned officer, a soldier of fortune, who was seriously wounded at the battle of Ticonderoga and barely survived. Before the revolution, he had a colorful military career serving with the British Army in the French and Indian War, and later Portugal, and still later with the Polish Army, fighting against the Turks. He was considered an extremely valuable prize for our new army. When the revolution began, he pledged his services to the American side and in the early years of the war, he shined in battle. But later, after many serious blunders, Congress relieved Lee of his command.
The "town" in this title refers to Lee, Massachusetts. It's a quaint New England town of about 6,000 people, located 125 miles west of Boston. Taking exit #2 off of the Massachusetts Turnpike will bring you to its main street. The town's rivers and streams were her early core, providing power for textile, woven and paper mills. At one time, it was the largest paper producer in the country. Lee's marble, a superior grade, was used in the construction of the Washington Capitol, St. Patrick's Cathedral in New York City and other famous buildings.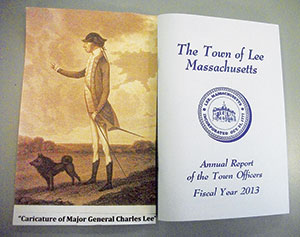 In this town, beautiful country homes and landscapes abound. Some of them have been used as locations for movies, such as The Cider House Rules and Before and After. Lee has been home to Massachusetts Attorney General Martha Coakley, Nat King Cole's family, and other notables. Fifty years ago, Arlo Guthrie's Alice's Restaurant legend began in the Lee District Court house. This humorous incident was talked about, sang about, and filmed about for the last half century. Later this year, plans for a 50th anniversary tour will revive the memories of one of America's best known hippies, Arlo Guthrie.
In 1777, the town of Lee attempted to name itself Washington, after George Washington, but a neighboring town won that privilege. At that time, General Lee shared in riding the crest of popularity, so the area's residents honored him by naming their new town, Lee. Despite the negative controversy over the General, Lee is still proud and is known as the "Gateway to the Berkshires."