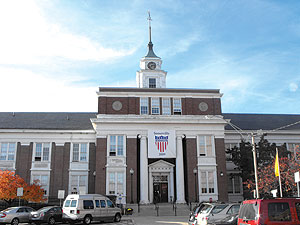 By Jeremy F. van der Heiden
The Somerville Board of Aldermen held a special meeting on Thursday, June 5, to hear Mayor Joseph Curtatone's budget proposal for Fiscal Year 2015.
In front of a crowded room of Somerville residents, elected officials and more, Mayor Curtatone went through the financial assessments and performances of the city throughout the past few years.
He first explained that Somerville has strived to continue to be an exceptional place to work, live and raise a family.
"You've seen this arch of values before, and that's because this budget continues our proven strategy," Mayor Curtatone affirmed. "We do not try to come up with a new game plan every year, coming up with a promised quick fix or an easy solution, because there are no easy solutions, especially in difficult financial times."
In terms of large-scale budgetary appropriations, the Somerville Public School system remains the largest piece of the pie, with a $3.7 million proposed increase in funding that would account for roughly half of the total appropriation request. Since 2010, the city has increased its investment in the public school budget by 26 percent, with a 6.6 percent year-over-year increase between last year and FY2015.
One of the reasons behind this, as well as other adjustments to the budget, has been the consistently and rapidly declining state aid that has come into Somerville in the past 12 years. In 2000, Massachusetts state air to Somerville was at $76 million, while this sum came all the way down to $34 million last year, adjusted for inflation.
Still, thanks to steadily increasing revenues, increased corporate investments and programs that have thus far played out, Somerville continues to spend less per capita at $2,383 than neighbors Boston and Cambridge, which are both about $3,500.
Innovative projects such as increased utilization of data and analysis solutions, as well as advanced parking meters, have been catalysts of both financial stability and strong services for community members.
In fact, throughout the hearing, Mayor Curtatone asserted that the city's increased attention to data analysis has not only fueled the accuracy of projects and strategies, but has also made it easier to remain transparent.
Last year, Somerville had $3.45 million in revenues, which was the highest sum in the past 10 years, while the city has pushed to alleviate the burden from taxpayers through adjustments that come directly from these increased earnings. Local meal excise tax revenues were up 15 percent, and considering the combined city earnings coming from Assembly Row and a revitalized Union Square, this figure is likely to remain on an upward track.
The Mayor pointed out that Somerville's Free Cash has increased steadily and, thanks to strong performing budgets in the past few years, Moody's has given the city a stable rating. Innovative projects such as increased utilization of data and analysis solutions, as well as advanced parking meters, are some of the reasons.
At the time of the meeting, an appropriation of a little more than $1.2 million was approved to go from the unreserved fund balance to the Department of Public Words Snow Removal Account to mitigate the FY2014 deficit was approved, as was an appropriation of $1.3 million from the same fund to the Community Preservation Act Fund.
After noting some of the other appropriations that relate to food safety and emergency preparedness, Mayor Curtatone explained that the Community Preservation Act remains a high priority and includes affordable housing, open space and outdoor recreation, and historic preservation. At least $2.9 million is expected to be directed toward the CPA.
"Year after year, we have beaten down those challenges working together and forged a path today," Mayor Curtatone stated. "A day when we have already achieved so much and yet look forward to an even brighter future … We did this together by believing in ourselves as a community, which is to say we invested in ourselves and our future."
Over the coming weeks, the Finance Committee, as well as other members of the Board of Aldermen, will go through the budget proposal with a fine-toothed comb and come to final decisions on each of the roughly 23 orders that were included initially.