Eagle Feathers #52 – Miss America
By Bob (Monty) Doherty
"May Day" in this country is a day when the sight of budding trees and flowers tells us that winter is over and the children sing around the May poles to celebrate the arrival of spring. In other countries, like Russia, it's a day of viewing parades and exhibiting national pride. Kate Smith would spend her life celebrating both of these practices. She was a singing patriot. She was born on May 1, 1907, May Day, and she died on June 17, 1986, Bunker Hill Day. Kathryn Elizabeth Smith grew up in the nation's capital. At eight years old, she sang for World War I veterans and, while attending nursing school as a teen, she sang for patients.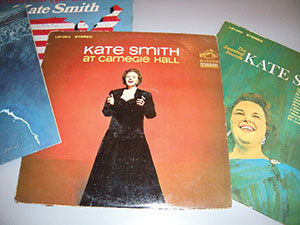 Kate's first year in show business featured Somerville. As a pudgy teenager of seventeen, she went north to New York City to try her luck as a singer.  She was cast in the new musical comedy, Honeymoon Lane. The play's debut was at the Somerville Theatre in Davis Square, and she was there as part of the company. As an actress, her life was tormenting. Because of the character she played, she was the butt of jokes and ridicule by clowns, comedians, and the audience, on and off stage. She was a big girl, cast as the character "Tiny Little." Despite this, she kept singing until she was rescued. This came in the form of Ted Collins, Vice President of Columbia Records, after hearing her sing.  The two made a handshake contract and established a friendship and partnership that spanned their lives.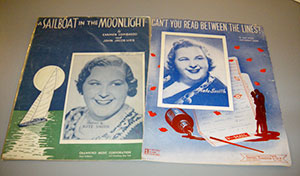 "Hello everybody. This is Kate Smith." This was her opening line on her first radio performance, followed by her singing of When the Moon Comes Over the Mountain. It was her 21st birthday. Paydays from ten dollars a week soon became fifteen hundred, and then, two year's later, would grow to five thousand dollars as her popularity exploded.  Irving Berlin wrote the song, God Bless America for her. She first sang it on Veterans Day, November 11, 1938.  As the years went by, many Americans wanted this song to be our national anthem. The song's proceeds went to the Boys' and Girls' Scouts of America.   As a volunteer during World War II, Kate sold over $600 million worth of war bonds, more than anyone else. For over five decades, she hosted her own radio and television shows and personally appeared on dozens of others.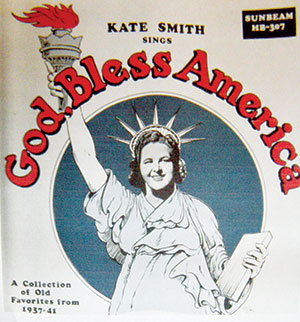 Philadelphia, the City of Brotherly Love, received some sisterly love from Kate during the 1970'S. She was instrumental in helping the Philadelphia Flyers Hockey team to victory. It is said that her singing of God Bless America at their games inspired the team to win two Stanley Cup Championships and almost a third. They thanked her by erecting a statue of her in front of their Spectrum arena. The United States Post Office gave her a stamp, and in Hollywood there are two stars honoring her on the Walk of Fame. Her greatest recognition came from President Franklin Delano Roosevelt in 1939. At a British royal-family visit to the White House, he announced, "Your Majesties, this is Kate Smith. This is America!"