Eagle Feathers #49 – Somerville Steamers
By Bob (Monty) Doherty
Somerville's Peter Forg Manufacturing Company on Park Street originally had its start  in 1881 as a wood-working company. After three years, it established itself as a metal stamping and manufacturing business catering to the furniture hardware industry. It was an epic time to begin.
In 1884, the Statue of Liberty cornerstone was laid, the Washington Monument was completed, the eight-hour American workday was established, and Harry Truman and Eleanor Roosevelt were born. One hundred thirty years is a long time for any company to survive, and the Peter Forg Company did it with its family spanning over five generations. The company produced everything from bolts, catches and fasteners for doors, to automobile burners and other parts for the Stanley Steamer and Rolls Royce companies.  During wartime, they re-tooled and made trench helmets and other supplies for American soldiers.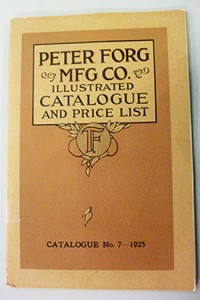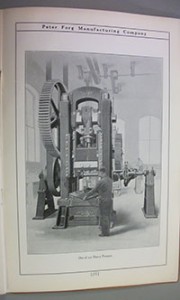 The name Stanley is a popular yet unrelated name in New England. Every year the Boston Bruins tries to present its fans with the jewel of the National Hockey League, The Lord Stanley Cup, or more commonly known as "The Stanley Cup."  If you're a do-it yourselfer or a professional carpenter, you're probably familiar with Stanley, Black and Decker, the maker of millions of tools for building and manufacturing.  And then there's the Stanley Steamer Carpet Cleaning Company, with its familiar yellow and black vans.  This company, which operates in 48 states, named itself in 1947 in admiration of the Stanley Steamer automobile.
Twin brothers, Francis and Freelan Stanley, invented their first automobile in 1897 and were the kings of steam cars until 1925. In 1899, one of their steamers climbed to the summit of Mt. Washington, the highest peak in the northeast. It was driven by Freelan Stanley with his wife as a passenger, and was the first automobile to accomplish that feat.   So when you see one of those tourist bumper stickers proclaiming that their car climbed Mt. Washington, you can smile at the fact that a Somerville-constructed steam burner powered the first car to the top.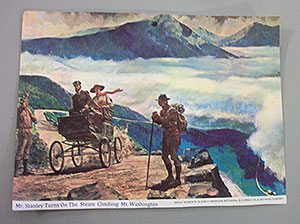 No one comes close to celebrity Jay Leno's vintage automobile collection. Jay has a reverence for steam engines and owns two Stanleys. One is a 1922 sedan, and the other is his steamer pride and joy, a 1906 Stanley Vanderbilt racer. This is one of only two ever built. In 1906, one of the Stanley Steamers set a world-speed record of 127 miles per hour. This cemented a century-old record that stood until 2009, when it was broken by the British.
There is a Stanley Museum in Kingsfield, Maine, which may be of interest to Somerville fans. It was the birthplace of the Stanley twins and traces their family history through paintings, photographs, and an exhibit of the burners and boilers that were the power plant of the Stanley engine.