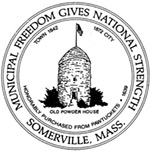 Somerville's overburdened recreation and athletic fields require creative solutions that will be drafted by a consulting firm that has completed an initial assessment of the city's fields, and a new task force will be convened to review the proposals, Mayor Joseph A. Curtatone announced.
Eleven out of the 18 fields in Somerville exceed the recommended 250 annual uses for a well-maintained natural turf field, according to an assessment of the city's recreation fields completed by Gale Engineers and Planners on behalf of the city, based on field usage by sport for each field and industry standards and guidelines. Somerville averages 433 uses a year for each natural turf field—an unsustainable amount of use regardless of maintenance and upkeep of each field. Fields included in the assessment include those owned by the City, the State Department of Conservation and Recreation, and Tufts University.
The multi-purpose natural field at Lincoln Park has the highest number of total annual uses at 1,218 (nearly four times the recommended uses for a natural turf field), and public meetings to discuss a Lincoln Park renovation are already underway. Other natural fields with high annual uses include Nunziato Field with 729; Foss Park's baseball diamond with 672; and Trum Field's softball diamond with 625. The city's two synthetic fields at Dilboy Field and Capuano Field average 601 and 672 annual uses respectively, both either within or nearly within the recommended limit of 650 for a well-maintained synthetic field.
Somerville's fields were also evaluated for safety, accessibility and equipment condition. Among the issues found were drainage issues; spectator seating at six fields that is not compliant with Americans with Disabilities Act (ADA) requirements; ADA-compliant access to three fields; and varying conditions of equipment at each field, such as backstops, fences and netting.
Gale Engineers and Planners is currently working on developing several potential solutions that would ease the burden on fields within the most densely populated city in New England. Mayor Curtatone plans to form a task force that would then review those potential solutions and provide recommendations and feedback.
"We've continued to increase our investments in recreation because we believe that getting kids active is better for their health, their academic success and overall well-being, and in some sense we're a victim of our own success as more children are enrolling in athletic and recreation programs," said Mayor Curtatone. "As our school enrollment also continues to climb upward, it heightens our sense of urgency in ensuring that our children have the best possible facilities and fields to play on. The dense nature of our city makes it challenging to locate new recreation fields in Somerville. By drafting solutions that will be reviewed by this task force, I hope we can uncover some new possibilities and give our children the quality outdoor facilities they deserve."