Eagle Feathers #47 – Somerville: For Hire
By Bob (Monty) Doherty
Not too long ago, many newspapers agreed that Boston's answer to James Bond was Spenser.  Spenser was a character born out of the brilliant and prolific mind of the late author, Robert B. Parker, who generated dozens of Spenser mystery novels and created the Jesse Stone Series (starring Tom Selleck). The Spenser stories were then developed into the well-known 1980's television series, Spencer: For Hire.
The episodes centered around a "rough and tumble" former state cop and boxer (played by Robert Urich, who also starred in the television series Vega$).  Because of his police background, his occupation evolved into private detective work. In gratitude, after once rescuing one of their own, Boston's firefighters gave Spenser access to an unused Beacon Hill firehouse for his lodging and an office. Later he operated out of the Charlestown Naval Yard.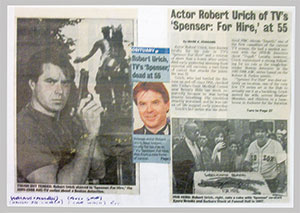 His vast neighborhood of operation was mainly Boston and its suburbs. He could handle most of the dangers his occupation served up. When he couldn't, he would enlist the help of his best friend, Hawk (played by Avery Brooks, also known for his role as Captain Benjamin Sisko in Star Trek: Deep Space Nine). The two often worked out in the boxing ring together. Their personalities in boxing language would have described Spenser as "rough around the edges," (like Sylvester Stallone's Rocky,) or a  "shot and beer" type guy.  Hawk was a more suave and classy type, like Muhammad Ali or a James Bond, "shaken but not stirred" breed.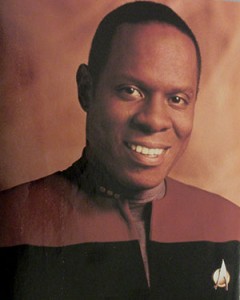 For three years, filming was done in many locations in and around Boston, including Somerville. Most Somerville locations were shot in the Prospect Hill, Union Square, and Spring Hill areas. Somerville fans would see movie stars, directors, and stage workers in their own neighborhoods. Avery, a sports-car enthusiast, could be seen at the Hawkins Street Garage admiring their foreign cars. Union Square churches and buildings provided centuries-old backdrops that would be hard-pressed to recreate on Hollywood sets. A large, handsome Queen-Anne style house at the corner of Walnut and Munroe Streets was rented for a year and used for many episodes. One famous scene had to have a Somerville fire engine and its crew standing by while they filmed the front door being blown apart. Another notable scene was a car chase through Elm Square and down Somerville Avenue into the Somerville Car Wash. The cars rushed through the entrance and continued on through with a high-speed soapy exit.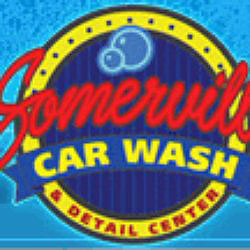 Through the years, the idea of "Somerville for Hire" has provided film and fodder for other movies such as, A Civil Action and The Social Network. Because of Somerville's unique history, it would be great to see the wagon train of Hollywood's trucks and trailers through Somerville grow even longer.