Eagle Feathers #46 – Raise your glasses
By Bob (Monty) Doherty
If you find yourself driving along Rt. 128 just south of Rt. 2, it's hard to miss the brown and white signs directing you to the De Cordova Museum. It's art exhibits are found in and surrounding the grounds of the former Julian De Cordova Mansion, the heart of the popular museum that he donated to the town of Lincoln. Julian acquired much of his wealth as the last owner of the Union Glass Company of Somerville.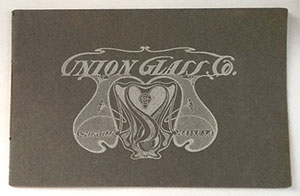 The first owner was Amory Houghton who emerged into the glass business in 1851 and founded Union Glass Company in 1854. The family-owned company operated it for over a decade. It employed a small crew that grew to over 250 workers, Somerville's largest industry at that time. The large factory works were located on the eastern side of Webster Avenue, just beyond Prospect Street. In 1864, the company outgrew the local demand for its various shaped glass offerings. The family sold the business and moved to New York City, acquiring the Brooklyn Flint Glass Company. Four years later, they relocated 250 miles north of the city, taking on the name of that sleepy little town, Corning.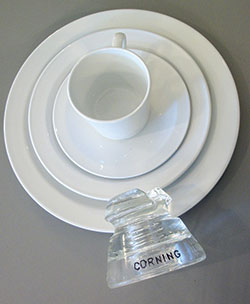 Through the years, it became an internationally known conglomerate. Today the company is the world leader in specialty glass and ceramics, and its creations touch everywhere around the globe and beyond, from fiberglass boats to nose cones for rockets.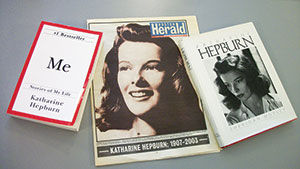 Some members of the Houghton family acquired fame in their own right. One was women's rights advocate, Katharine Houghton Hepburn, whose daughter was the twelve-time nominee and four-time Oscar winner, actress Katharine Hepburn. She was the granddaughter of the Union Glass founder.
Corning began in Union Square and its products haven't left. In fact, new ones keep coming back in the form of dinnerware on our tables, fiberglass insulation in our homes and the ruby red safety light systems along our train rails. From lights and lanterns above the streets, to the automobiles along the streets, to the fiber optics under the streets, Corning is there. Its roots were planted in Union Square 163 years ago, and today it is the world's #1 pioneer in glass. The screens on your televisions, computers, iPhones, laptops, and cell phones all have something in common … you are looking through clear, Corning glass.