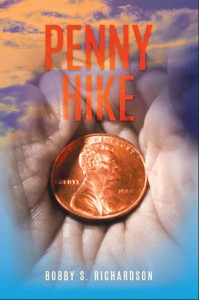 By Nidhi Mathson
Caesar's Pizza on Somerville Avenue, Leone's on Broadway and Prospect Hill tower are just some of the well-known Somerville hot spots featured in the Robert Richardson's debut novel, Penny Hike.
"[The novel] shines a great light on the city of Somerville," Richardson, who spent the first 33 years of his life in Somerville, said. "You get all of these books now that are about Whitey Bulger and the Winter Hill Gang, which shines a negative light on Somerville. I wanted to shine a good light on it, and I think this novel does."
Penny Hike is about a young boy, Fin O'Connell, who is repeatedly abused by his mother's brother and makes the decision to finally end the abuse at the beginning of his seventh-grade year. While sitting anxiously at home waiting for his mother to return, Fin conjures up the courage to finally reveal the abuse he suffered at the hands of his uncle. Fin's mother arrives home, and before he is able to explain to her about the abuse, she reveals that she has terminal cancer. The story is loosely based on Richardson's own life.
As for the title of the book, Richardson would walk down the street with his friends as a young boy, and they'd flip a coin to decide where they were going that day. It was a "penny hike."
"Heads, we'd go left; tails, we'd go right or whatever we'd decide on for the flip of the coin. You'd never know where you would end up," he said.
Fin and his two best friends take penny hikes through the streets of Somerville. The penny hikes help him to find his place in the fitful world of junior high school, through the devastating effects of terminal cancer and into a floor-hockey tournament where he has a chance to find redemption and hope of a better future.
According to Richardson, many older Somerville natives reading the novel may recognize a lot of the landmarks, streets, restaurants and, in particular, the old junior high schools that don't exist anymore.
"They used to have three junior high schools – the Northeastern, the Western and the Southern – that they got rid of in the mid-'80s, so (readers) will recognize a lot of those schools," he said.
Although he has written a number of short stories in the past, this is Richardson's first novel. He said the idea began as a short story, but his wife convinced him to turn it into a novel.
Richardson currently lives in the western part of the state, which is where his wife is from, but he hopes to convince her to move back someday.
"One day. It's my dream to move back to Somerville," he said. "It truly is."
Penny Hike is available at select independent stores, on Amazon and via the Kindle store.