Eagle Feathers #43 – Little Howie
By Bob (Monty) Doherty
He was born in Somerville, or "Charlestown Beyond the Neck," on January 6, 1960. This date is called the 12th day of Christmas in many countries or "Little Christmas." He lived a tough early life in a then rough section of Charlestown during the very tumultuous "busing era" in Boston.
Born on Little Christmas, Howie Long was not little for very much time. By the age of 14, he had grown to just over 6 feet and weighed 220 lbs. At this time, he was rescued from his broken home and went to live with an uncle in Milford, 40 miles away. It was a drastic change in his environment, from cobblestone and pot-holed streets to grassy fields and woods.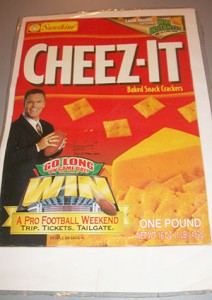 He was a city kid, weaned on street hockey and pick-up basketball.  Because of his size, he was recruited at his new school to play organized high-school football, which he immediately took to. Now he felt he belonged. At this early age, he found his life's passion on which he focused and excelled. After playing well in high school, Boston College offered him a one-year scholarship, but Villanova University offered him a full four-year scholarship, which he accepted. While at Villanova, he lettered for four years in football, became the Northern Collegiate Boxing Champion, and topped it off by being voted the most valuable player in the 1980 Blue Grey Game.
This brought attention to him from the National Football League, and he was subsequently drafted by the Oakland Raiders. By this time, Howie Long had grown to 6' 5" and weighed 270 lbs. Looking and performing like he was chiseled out of Bunker Hill Memorial granite, he began his professional Football Hall of Fame quest in 1981. For the next 13 years, Howie would dominate the position of Defensive End for the Oakland/LA Raiders. He played in the Pro Bowl an amazing eight times during this period. Wearing his 1984 Super Bowl Championship ring, he and his patriotic #75 were inducted into the Football Hall of Fame.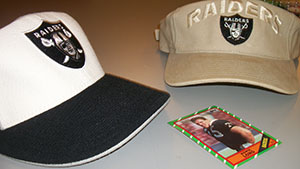 While on the football field, Howie was a force to be reckoned with; but off the field he was a gentleman and absolute family man. He spent his time with his wife and raising his three sons, who now also play football. He left professional football while he was on top.  Although sustaining many injuries and having many operations, he left football in good health.
After retiring, Howie eclipsed his playing fame by becoming a national television football analyst, authored the book Football for Dummies, became a sales spokesman for various products, and acted in movies, just to name a few of his endeavors.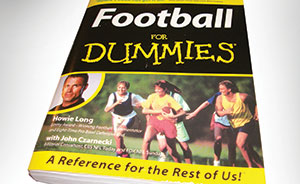 He stands 6' 5" and is sometimes known as "Little Howie" because his father was even taller.  Since that day in Somerville on Little Christmas, "Little" Howie has done many "big" things.