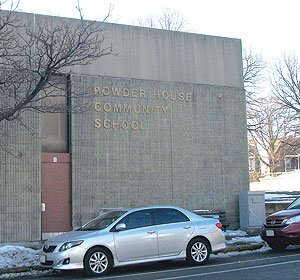 Residents living near the Powder House Community School will have a say on Tufts University's plan to redevelop the site.
Four public meetings, the first of which takes place at 6:30 p.m. Monday, Jan. 13, at the TAB building (169 Holland St.) are scheduled to discuss the proposal.
Mayor Joseph Curtatone accepted the Powder House Community School Technical Advisory Committee's final recommendations for redevelopment of the former K-8 public school site back in September. The committee recommended three of six proposals for consideration, with the proposal by Tufts University receiving the top recommendation.
The site includes an 87,599-square-foot parcel with the existing 80,857-square-foot building
Tufts plans to combine the former school and Tufts Administration Building (TAB) sites into a larger parcel that would face both Holland Street and Broadway. The complex would include upgrades to the existing TAB building, the construction of an administrative building with underground parking on the site of the former school, a third building on the former school site with either office or unaffiliated residential units (both affordable and market rate available to the public)
In addition to offering the largest contiguous public green space of any of the proposals, the plan, according to proponents, would add significant office space and thus increase daytime foot traffic for Teele Square businesses. The university has also expressed a commitment to paying full property taxes on buildings it plans to develop.
The Jan. 13 kickoff of the community vision process, jointly hosted by the city and Tufts University, begins with a charrette (a collaborative design session), during which residents and community members will work with city planners and Tufts officials to sketch out the vision for the site. Moving forward, there will be a community meeting Monday, Feb. 10, a charrette follow-up Wednesday, March 5, and a wrap-up meeting Wednesday, March 26.
"I want to thank the many residents who helped us determine the highest and best use for this site and envision how it could enhance the neighborhood, and I hope the those already involved, as well as newcomers, will join us for the coming meetings to help shape the final plan," Curtatone said. "Tufts' proposal will not only expand public open space and generate new tax revenues for the city, it will bring daytime activity to Teele Square, which is good for local businesses and will add vibrancy to the neighborhood."