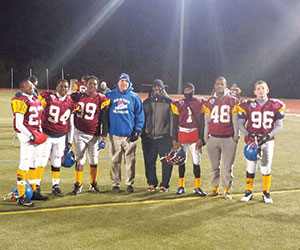 Team Mass wins the first one 48 to 0 on the way to the Alamo Dome. 6 of the best 8th graders in the state are from Somerville Youth Football.
Six 8th grade football players from the Somerville Youth Football Program have been chosen to play for Team Mass, an All-Star team made of 35 of the best players from around the state.
#1 Jiovanny Pierre (East Somerville Community School) WR/DB/PR 5'9 155
#23 Marcus Thomas (Prospect Hill Academy) DB 5'10 170.
#46 Henry Augustin (Next Wave Alternative School) TB 6' 175.
#54 Matheus Bragatto (East Somerville Community School) OLB 5'9 190.
#96 Joe Gulla (John F. Kennedy Elementary School) OG/DE 5'11 210.
#99 Quency Bocage DT (West Somerville Neighborhood School)  5'11 205.
Coach Makonnen Fenton Defensive Coordinator Team Mass, SHS '99, Temple University '04.
This past fall the Somerville Recreation Department introduced The Somerville Youth Football and Cheer Program (SYFC) an associate member of the Northeast Conference Youth Football League (NECYFL). The NECYFL is affiliated with American Youth Football, which is a "Grade Based, Age Protected" youth football league. In the inaugural season over 100 Somerville youth were given an equal opportunity to play youth football and cheer.
The FBU National Championship is a 64-team youth football tournament with 6th, 7th, and 8th-grade national brackets featuring the best youth athletes selected from the best youth leagues and top youth programs from around the country. The FBU National Championship is a single-elimination all-star tournament, occurring annually from December to January. The semi-finals for all grades are held in San Antonio, Texas, Alamo Dome in association with the U.S. Army All-American Bowl.
More info can be found on the official website: http://fbunc.com/ and also on Facebook: FBU Team Mass.