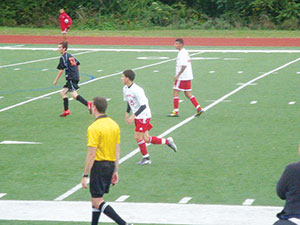 (Updated 11.13.13)
Somerville High beat Silver Lake by a score of 2-1 to advance to the State Finals. SHS will play West Springfield High for the State Division 1 Championship this Friday, 7:30 at Worcester State University.
___
A 3-0 win over Malden Thursday night helped to bring the Somerville High School Varsity Soccer Team closer to a second consecutive Division title.
Then the Highlanders beat St. John's Prep by a score of 4-1 to capture the Championship on Saturday, November 9, at 2 p.m. in the MIAA Boys Soccer North Division 1 title game at Manning Field in Lynn.
Prior to the shutout win over Malden, the Highlanders knocked off Brookline in a 4-0 victory that included a phenomenal third goal by Thayrone Miranda, which made ESPN Sportscenter's Top 10 Plays. You can watch his amazing goal at www.vimeo.com/78762225.
SHS will face Silver Lake in the State Semi-Finals.